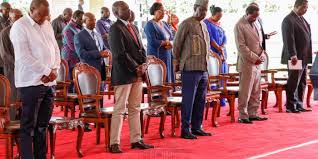 The head of state and his deputy president William Ruto,they have been in a frosty relation.There relation between the two dual leader has been deteriorating day by by.DP Ruto has been missing in most of the events attended by his boss.Their fallout was seen yesterday when DP Ruto skipped a commemorate event in Kabarak.It was the first anniversary of the late former president Moi.During the ceremony,the head of state was supposed to be welcomed by the deputy president but to the contrary,he was welcomed by the Moi's son who is also Rongai MP.
During the ceremony in Kabarak yesterday, President Kenyatta disclosed that leaders should emulate the late President when he respected his boss "leaders should emulate the respect then Vice President Moi had for his boss, President Kenyatta, instead of displaying "unbridled arrogance"according to the Nation Africa news.
As we approach 2022,deputy president has been having different meeting,the latest rally he held in coastal region.

Content created and supplied by: jonezokari (via Opera News )