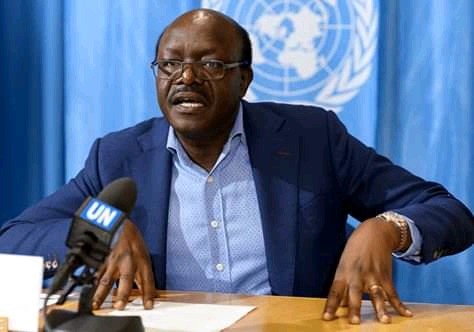 Former Trade Minister Mukhisa Kituyi ( Photo Courtesy)
Just days after announcing his bid for President come the next general election, former Trade Minister Mukhisa Kituyi has been told to forget about the "mulembe nation" votes as the region is firmly behind ANC leader Musalia Mudavadi and Bungoma Senator Moses Wetangula.
Dr Kituyi recently resigned as the Director General of the United Nations Conference on Trade and Development and jetted into the country to launch his presidential bid.
However, his bid could be running into turbulence even before take off amid growing opposition from his own Western Kenya backyard.
According to Lurambi MP Titus Khamala, the veteran politician stands no chance to become President as Mulembe nation is firmly behind Mudavadi and Wetangula.
" Kituyi has a right to run for any seat, and you can't bar anybody from doing that because it is his democratic right. But I want him to know that we are behind Musalia Mudavadi and his brother Moses Wetangula. Those are the leaders whom we shall support," the legislator told his constituents as quoted by the Star newspaper.
The lawmaker was also quick to question Dr Kituyi's development record when he served as Kimilili MP.
According to Khamala, the former Minister's track record was below par.
Further, the MP claimed that Dr Kituyi is not in touch with the ground as compared to Mudavadi and Wetangula who understand the needs of the people.
" Kituyi is our brother but he doesn't even attend funerals and other local functions in this region. His development record in Kimilili is below average. How does he think that he can be more popular than Mudavadi and Wetangula who are always with people in the grassroots?" He added.
Dr Kituyi, a veteran in the game, believes that he will become Kenya's fifth President. However, his bid has already unsettled his home turf. Is it a sign of bad things to follow? Well, time will tell.
Content created and supplied by: FrankMurunga (via Opera News )