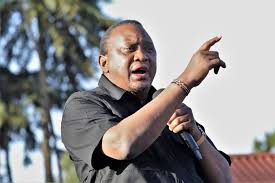 President Uhuru Kenyatta has seemingly failed in his second term of office. In his first term president Uhuru Kenyatta and William Ruto were working together contrary to the second term where the two leaders have been fighting endlessly.
The deputy president William Ruto has moved his separate ways to popularise his 2022 statehouse bid with Uhuru Kenyatta focusing on matters BBI. It doesn't need rocket science to see that president Uhuru Kenyatta has failed in his second term in office owing he achieved a lot in the first term including railway, roads and electricity connectivity in the country.
President Uhuru Kenyatta has focused on matters BBI instead of the big 4 agenda for the country. It's clear that president Uhuru Kenyatta has not concentrated on matters big four agenda rather BBI. It's also evident that president Uhuru Kenyatta second term in office has failed.
President Uhuru Kenyatta has failed due to his fighting to his deputy William Ruto. It's clear his fights for William Ruto is earning him great support with majority of Kenyans embracing the deputy president owing to his humiliation at the top table.
President Uhuru Kenyatta has also alienated his deputy in matters decision making in the country. This has exposed him as a person not interested in matters development in the country or unity rather fighting supremacy political battles for his own advantage.
If this two leaders will unite to work together for the betterment of the country only time can tell. It's however clearly evident that the second term of president Uhuru Kenyatta has been full of politicking from both inside and outside government. It's as well the worst moments for Kenya having top most leaders fighting at the expense of service delivery to the suffering majority Kenyans who are suffering due to economic tough times.
Content created and supplied by: Onestrong (via Opera News )