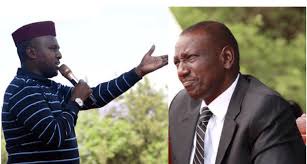 Majority ODM MPs have toned down compaigns against deputy president William Ruto 2022 statehouse ambitions. They have instead concentrated on popularising BBI which they believe is of interest to majority Kenyans
Majority ODM MPs have as well realised that William Ruto might really not be their enemy owing Uhuru Kenyatta has not declared his preferred successor going into 2022. All indications is that president Uhuru Kenyatta might support the Gideon Moi and Musalia Mudavadi led coalition.
Its for this reasons that ODM has toned down compaigns against William Ruto owing they feel Uhuru Kenyatta might eventually betray Raila Odinga. Recently John Mbadi did not rule out working with William Ruto going into 2022 as in politics anything is possible and probable.
It's also evident that Raila Odinga refused to have the hustlers narrative criminalised with the argument that it will he a retrogressive law. Its this indicators that could see William Ruto and Raila Odinga working together ahead of 2022.
It's also clear that Uhuru Kenyatta has betrayed William Ruto and possibly might betray Raila Odinga as well. If that happens therefore we might see this leaders working together going into 2022 to avoid a defeat if Uhuru Kenyatta supports a different candidate. This could inform why most ODM MPs have toned down on compaigns against William Ruto as he could as well be their ally into the future.
Content created and supplied by: Onestrong (via Opera News )