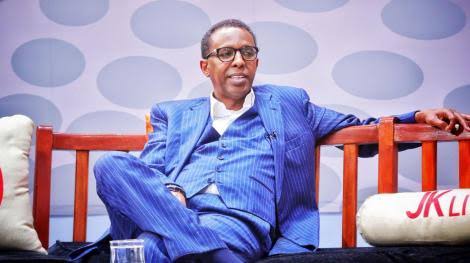 AhmedNassir Abdullahi. [Photo credit: Citizen TV]
As 2022 comes near, different Kenyans including Kenya's deputy president and other leaders have shown interest in ruling the country when President Kenyatta's time expires.
Already the second in command has declared his aspiration of inheriting the seat from his boss—something which has appeared not to have gone down well with him with the president. Against the demands from his boss that all the campaigns be halted and concentration be channeled towards developments, the second in command of late has been busy campaigning.
Other leaders who have also indicated their interest in inheriting president Kenyatta's seat when he retires include; Dr. Alfred Mutua, Raila Odinga, Musalia Mudavadi and Baringo Senator; Gideon Moi.
The question remains; who will eventually succeed in leading Kenyans after 2022? Despite Ruto's popularity, his boss— president Uhuru Kenyatta — has appeared to be against his deputy and even of late, have indirectly asked him to step down if he feels dissatisfied by how the government is run. President Kenyatta in the recent past seemingly pledged to support Musalia Mudavadi for presidency.
However, according to the popular City Lawyer; AhmedNassir Abdullahi, there is one community that will determine who Kenya's next president will be.
Writing in his Twitter handle, AhmedNassir said residents of the former Central Kenya will be the determinants of Kenya's next leader. Most residents of Central Kenya are Kikuyu, and this could be the community he was referring to.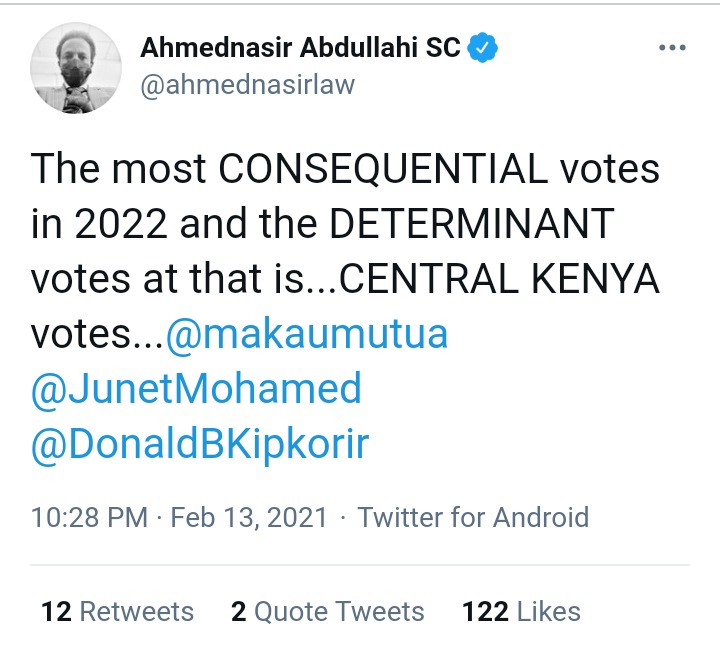 "The most CONSEQUENTIAL votes in 2022 and the DETERMINANT votes at that is...CENTRAL KENYA votes...@makaumutua @JunetMohamed @DonaldBKipkorir," wrote the lawyer.
Content created and supplied by: creport (via Opera News )