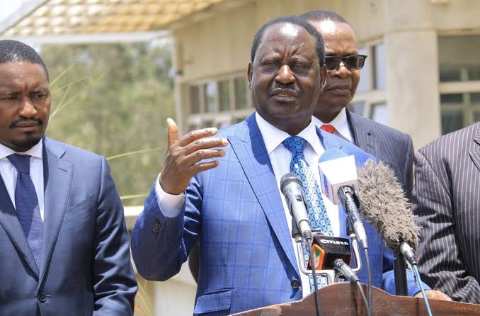 For the longest time this country Kenya has been under dubious leadership persons. The type of leaders one wonders how they got to run the country. Their mode of administering services can be somewhat said to be vague and unprofessional. Let's take a look at the Jubilee administration. For the past eight years what can they show proudly as an achievement.
We're it not for the right honourable Raila Odinga the country would have been a mess. In their first term in office, Jubilee party managed to swindle billions of Kenyan shillings through dubious schemes. The NYS was just a tip of the iceberg that led to Afya house scandal. Raila Odinga made sure Kenyans got wind of the ill happenings within the corridors of the government.
He didn't stop there as he went ahead to question the railway line that was being constructed on public and private land from Mombasa to Uganda border. He shed light on how funds were being misused by the regime that didn't want to care about the ordinary mwananchi.
Now as i come back to why i think and feel Raila Odinga should run this country, it all comes to accountability, assertiveness and his ability to use the rule of law to lead. Raila has managed to create and run the most stable political party since Kenya attained independence. Mr. Odinga has been able to connect atleast all the 45 tribes in his political outfit without chaos or intimidation. If this isn't the leadership qualities we learnt about then i don't know which else.
Again since Raila Odinga initiated the handshake with president Uhuru Kenyatta, Kenya has seen numerous economic growth starting with the lake side Kisumu. For decades the region couldn't seem to get development in the region but with Hon. Raila Odinga at the top table the region can now boosts of economic development. So i say it's high time Raila Odinga runs this country. Share your opinion too.
Content created and supplied by: Realmuosho (via Opera News )