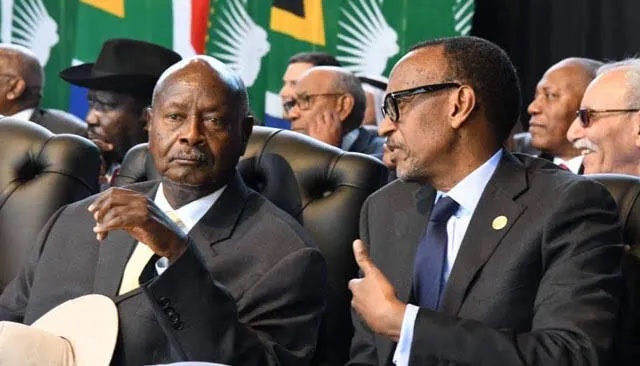 Yoweri Museveni And His " Frenemy" Paul Kagame Of Rwanda.
There is no denying the fact that tensions between the two African States; Rwanda and Uganda is growing at an unimaginable pace. These two states border each other and have since time in memorial been closely, thereby shaping and designing the political landscape of the other but the past few decades, the two countries are presently at each others throats.
Background Information About The Trained Relationship Between Kagame And Museveni.
The federal government of Uganda under Yoweri Museveni and his National Resistance Movement consolidated power back in the days during the historical Ugandan Bush War that began in the year 1980 to the year 1986 spearheaded by the military aid of Rwandan refugees who had fled their country.
A Day When Someone With A Sense Of Humor Arranged Museveni' s Seat Next To Kagame' s During Ramaphosa' s Innaguration.
Among those refugees was current Rwandan President Paul Kagame, who joined Museveni' s eventually successful struggle against the governments of Milton Obote (1980– 1985) as well as Tito Okello. By voluntarily providing asylum for them, Uganda under Museveni facilitated these displaced Rwandan refugees to come together and this gave rise to the Rwanda Patriotic Front abbreviated as RPF back in the days.
Additionally, it was thanks to Uganda that the military wing of the RPF, the Rwanda Patriotic Army (RPA), the army of the Rwandan government, survived a total defeat at the hands of the Rwandanese (FAR) army forces after the failed invasion of Rwanda back in 07th of Oct. 1990.
At The Center, Rwandan President Mr. Paul Kagame And His Ministers.
The retreating Rwandan Army that was being spearheaded by the former Army general, come president Mr Paul Kagame too advantage of Ugandan territorial strategies to launch and attack and later capture Rwanda' s Virunga Mountains— and later the 1994 Rwandan 100 days of mass murder.
When Paul Kagame Could See Eye To Eye With Yoweri Museveni.
Also known as 1994 violence Against the Tutsi, alias, the deadly and blood ridden massacre. Since after the deadly Rwandan genocide, these two states have been close allies since then and have fought together, side by side on several occasions at war front. During the First Congo War (1996– 1997), he fought against perpetrators of the Rwandan genocide, who fled to Zaire (now the Democratic Republic of the Congo) after the genocide and helped overthrow Zaire leader Mobutu SeseSeko.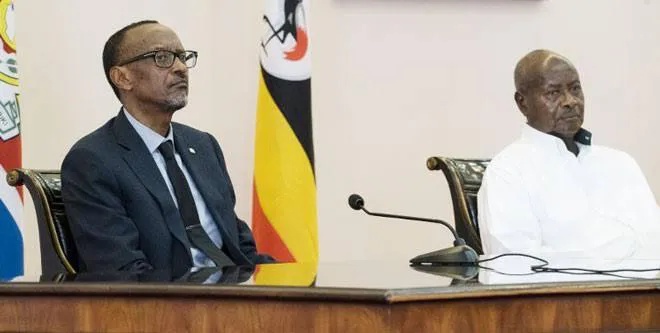 Yoweri Museveni Of Uganda And Paul Kagame Before The Poisoned Waters Between Them Drifted Them Apart.
They fought together again during the early stages of the Second Congo War (1998– 2003), before turning on each other in a fight for control of the Congo' s Kishangani city. As a result, there were about 3, 000 deaths.
This was where the problem began, Since the end of the rigorous 2nd Congolese War. The formerly existing relations between the two countries then took a down spiral even though the two heads of states, Museveni were able to meet and negotiate on a few things in order to defuse tensions mounting between them.
Further Deteriorating Relationship Between Museveni And Kagame.
On 5 March, however, poor relations between the two countries came to the fore after Rwandan Foreign Minister Richard Sezibera held a press conference outlining Rwanda' s concerns with Uganda.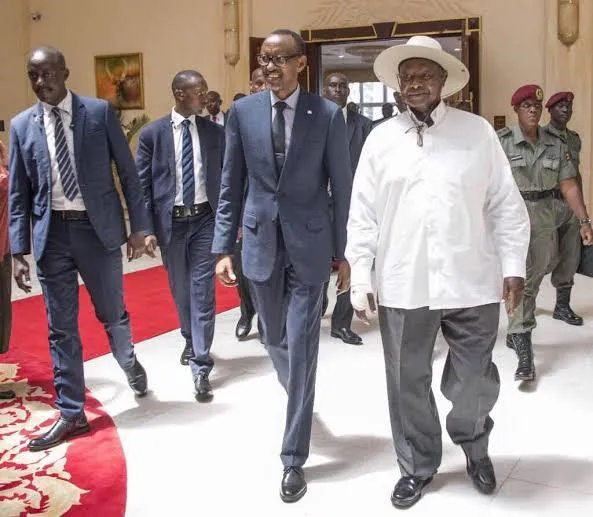 Paul Kagame On A Tour In The Ugandan State House Along With Museveni.
He temporarily but unannounced locked down the border linking Uganda to Rwanda, thereby ordering Rwandans who resided in Uganda to immediately leave his country. He then went ahead and accused the Uganda government of illegally discriminately arresting Rwandan citizens, and for disrupting regional balance of trade and similarly providing military and strategic support to anti- Rwandan militia groups. Even though, Museveni and his obviously but seriously refute these accusations.
The last charge is the most problematic, as the minister specifically accused Uganda of supporting groups that were against Rwandan Government as well as other organizations considered by the Rwandan authorities to be dangerously intent on overthrowing the current RPF government and bringing back the ethnic divisions that haunted Rwanda before the genocide.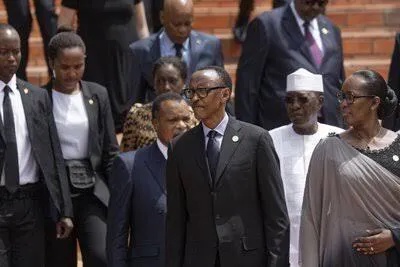 The Rwandan Head Of States And His Companion Wife Next To Him.
Uganda however, wasn' t the only party implicated in this, former Tanzanian head of states Mr. Jakaya Kikwete hosted the incubent RNC as well as the leaders of FDLR in 2013, and this saw them implicated in the issue. Similarly, Rwanda has also accused Burundi and its president, Pierre Nkurunziza, of sympathizing with the FDLR and granting them citizenship.
What Ugandan Government Did That Triggered Hostility With Rwanda.
However, Uganda is severely disrespecting Rwanda' s dignity, arresting Rwanda and aiding anti- Rwandan government groups that, on some level, are promoting genocidal ideology.
The Bitter Relationship Between The Two Heads Of States Hits The Headlines.
This very idea was not be taken lightly or should not have been tolerated as it may have further aggravate the same crisis between those two states. Someone with a sense of humor devised a plan to sit for Cyril Ramaphosa' s presidential inauguration in South Africa on May 25. Presidents Yoweri Museveni and Paul Kagame were among the best seats reserved for veteran leaders of Africa, animated chatting, if not at least decently. So why not have two East African nobles sitting next to each other? They should have had a lot to discuss. But in the recent past, relations between the two heads of states, Ugandan President Museveni and Rwanda' s President Kagame have fallen to the lowest level in two decades.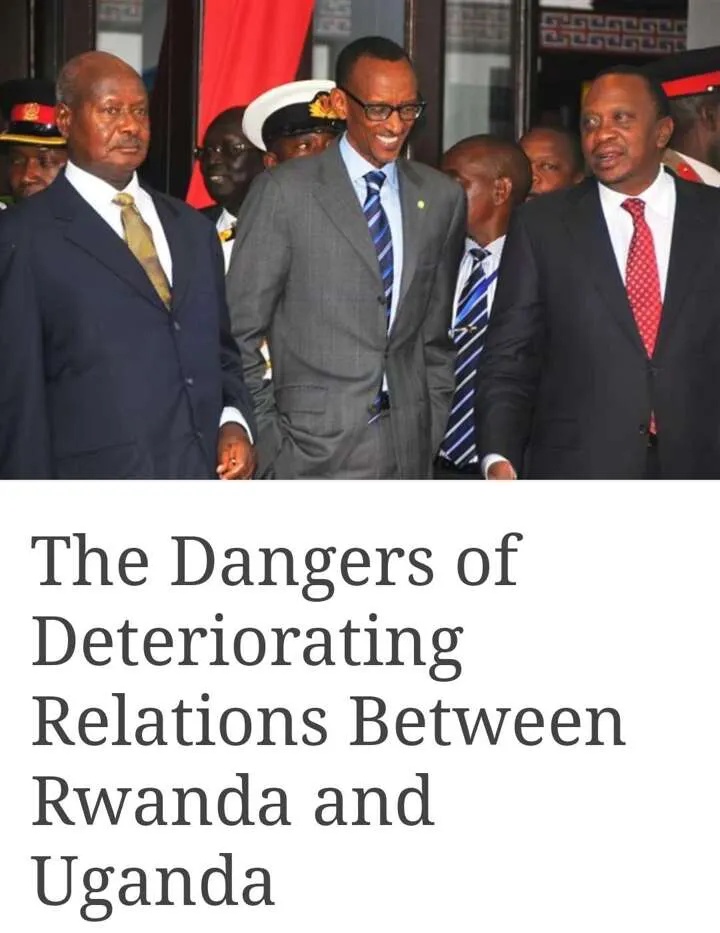 Mounting Hostility Between Rwanda Under Kagame And Uganda Under Museveni Becomes Subject Of Concerns.
Strategic Blunder And Miscalculations By Rwandan Police That Worsened Their Relationship.
Another skirmish broke out on the border between Rwanda and Uganda, a day before she left for Pretoria to cheer for Ramaphosa. This time, two Rwandan soldiers came in search of a Rwandan citizen in southwestern Uganda in Rukiga district. When the man resisted capture, they shot and killed him along with a Ugandan citizen who had tried to save him. The Ugandan Foreign Ministry demanded an immediate apology. The deal is shrouded in mystery, but it is likely to come to light the next day when the two presidents meet. This is in line with the pattern of escalating tensions between the two countries over trade and political matters.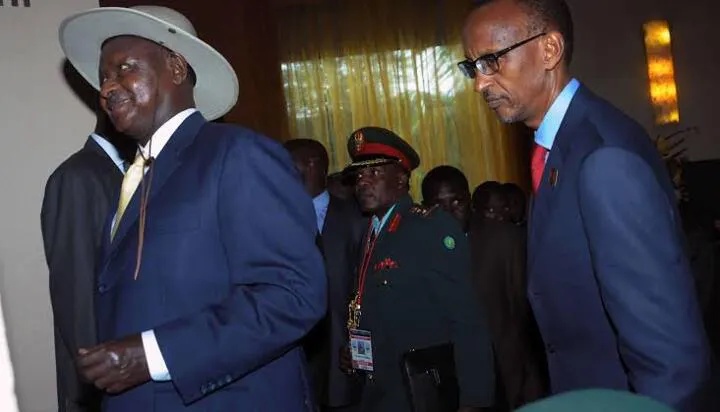 Paul Kagame Along Side Museveni During A Legco Meeting In Arusha.
These escalated in February when Kagame' s government began blocking Ugandan trucks from entering Rwanda at the Kitona crossing point, which is one of the busiest border checkpoints between the two countries. Rwanda' s Foreign Minister Richard Sezibera then barred citizens of his country from traveling to Uganda- apparently for what her termed as matters of National security. He went ahead and told the BBC that the Rwandan citizens faced harassment, unlawful arrest and sometimes cruel and indefinite detention by the homicidal Ugandan police authorities.
Behind all this drama and chaos lays Kagame' s core accusation that Yoweri Museveni of Uganda was supporting insurgent groups to oust him out of power, and this has worsened their relationship to date.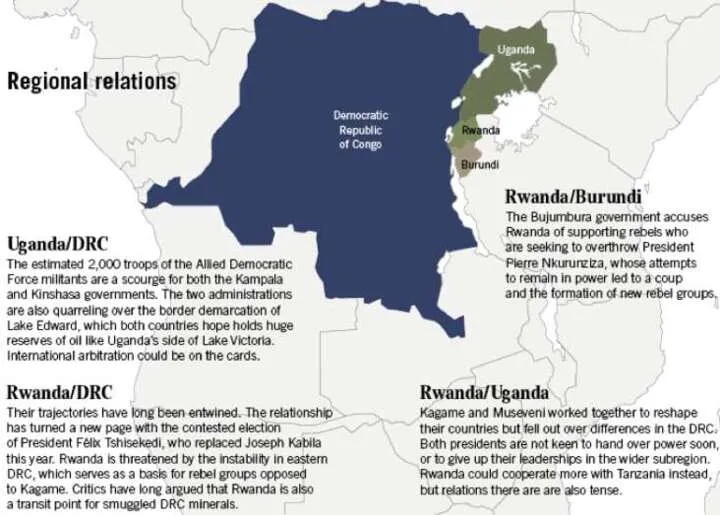 Exclusive Explainer Of The Root Cause Of All The Strife Between Uganda And Rwanda, Among Other African States As Well.
Content created and supplied by: KevinGatesKenya (via Opera News )
Opera News is a free to use platform and the views and opinions expressed herein are solely those of the author and do not represent, reflect or express the views of Opera News. Any/all written content and images displayed are provided by the blogger/author, appear herein as submitted by the blogger/author and are unedited by Opera News. Opera News does not consent to nor does it condone the posting of any content that violates the rights (including the copyrights) of any third party, nor content that may malign, inter alia, any religion, ethnic group, organization, gender, company, or individual. Opera News furthermore does not condone the use of our platform for the purposes encouraging/endorsing hate speech, violation of human rights and/or utterances of a defamatory nature. If the content contained herein violates any of your rights, including those of copyright, and/or violates any the above mentioned factors, you are requested to immediately notify us using via the following email address operanews-external(at)opera.com and/or report the article using the available reporting functionality built into our Platform See More