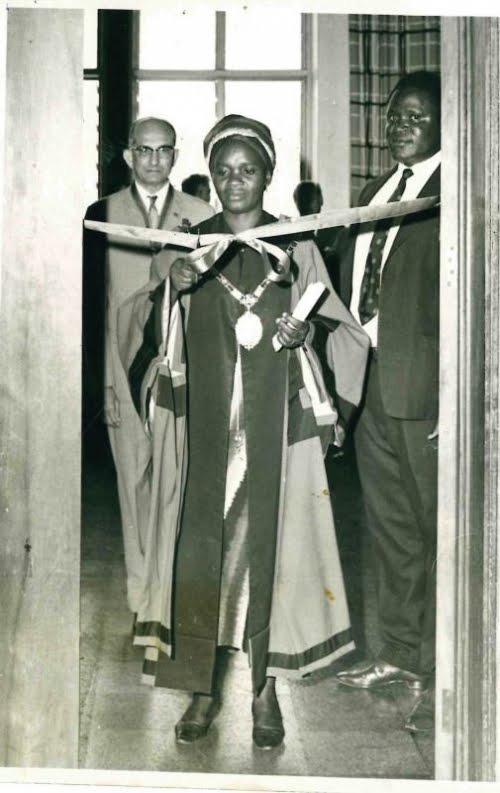 Grace Onyango was the first woman Member of Parliament in post-independent Kenya, breaking the proverbial glass ceiling.
Mama Grace Onyango was a teacher-turned-politician at the cusp of Uhuru, when she began overturning gender relations on its head. As the first woman councillor of Kisumu Central Ward - when there was not even a woman sweeper - Nya Bungu (daughter of the bush) taught the Kisumu Union Primary before attending council meetings after classes.
The second of nine children experienced gender discrimination first-hand since it was "no place for women," the male chauvinists charged. To level things, she campaigned for women to be employed in an interesting fashion: If any male employee died or retired at the municipal council, the replacement was to be either the wife, sister or daughter!
This continued, and made her very popular, besides introducing people-friendly by-laws when she served as Mayor of Kisumu (another first) when incumbent Mathias Ondiek died in 1965.
It's funny how Mayor Grace Onyango engaged Phililia Olang' as the 'mayor's wife' and both attended all official functions, which was made more curious since her hubby, Onyango Baridi, was also in tow!
The popularity of the first woman Assistant Commissioner of the Girl Guide Association and Chair of Child Welfare Society, Kisumu District, was such that she wrestled down 10 male opponents to become Kisumu Town MP in 1969.
Sadly, that was also the year Onyango Baridi, a former teacher-turned journalist died, leaving behind six children.
Grace Onyango was on the Parliamentary Committee that investigated the murder of JM Kariuki in 1975. The world came to know that President Jomo Kenyatta deleted the names of Minister of State Mbiyu Koinange and bodyguard Wanyoike Thungu from the committee's report when she raised the issue on the floor of the house.
The 'woman of many parts' left active politics when the late Dr Robert Ouko ousted her in the 1979 elections. Phoebe Atieno Musandu's MA history thesis from Miami State University in 2006 is titled, Daughter of Odoro: Grace Onyango and the African Women's History, in where she quotes the first 'Iron Lady' of politics as saying in 1989 that: "As a politician, I wanted to prove to the 'just government of men' that women can do as well if given the chance...which I think I did."
Grace Onyango is now in her 80s, minus the bodyguards and other trappings of power of yesteryears.
Content created and supplied by: Dr.proffnyacoma (via Opera News )