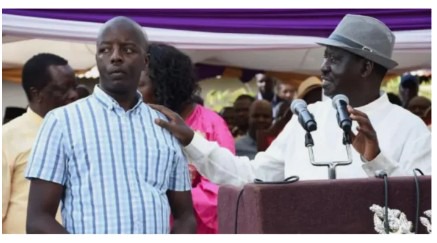 Here Is The Condition That Raila Odinga Junior Suffered From That Affected His Mouth And Right Face.
Nairobi Kenya, 6th February 2021.
Raila Odinga Junior is the only during son of the former Prime Minister and the ODM leader Raila Amollo Odinga and he has always been in the public limelights making statement's about the political activists in the country.
However, Raila Junior used to suffer from a disease and he survived from it, a brain tumour that had affected his right face side and even affected his mouth and that's why he is the ways he is.
Junior suffered from a non-cancerous brain tumor and this interfered with his nervous system from the time he was a child and he has grown having it all ways through from the year 1985.
This is the main reason as to why Junior had always been that way and when he first talked about this he said that it could be from his mother's bloodline as in their family, there is a family member who used to have the condition too.
For more information on this and other news making headlines, make sure that you follow me.
Content created and supplied by: JonazKE (via Opera News )