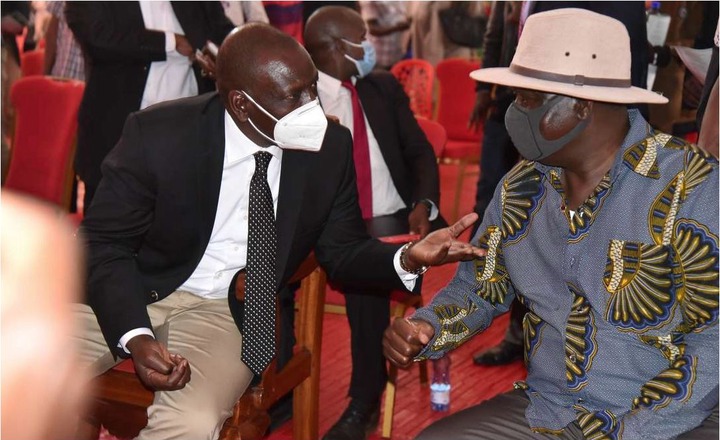 Deputy President William Ruto has warned ODM party leader Raila Odinga that he will see the dust if he waits for the support of President Uhuru Kenyatta in the 2022 general election.
Dr Ruto claimed that Mr Odinga had dissolved the NASA alliance and then used his handcuffs with President Kenyatta to break up the Jubilee party to fail to meet its development agenda instead of preparing for the 2022 general election.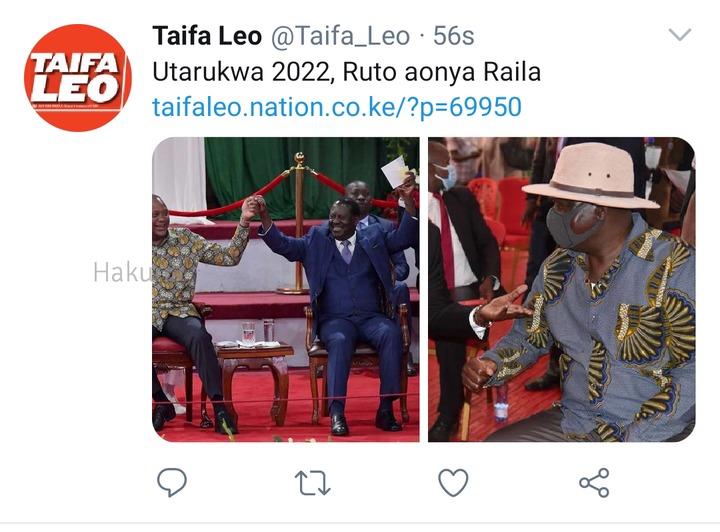 "I told these gentlemen in 2017 and they are repeating the same mistakes they made. They have no plans, they don't understand anything and if they play the situation will be what it was in 2017, "he said.
Speaking in Kilifi County yesterday, Dr Ruto said that instead of preparing for the general election, Mr Odinga and other pro-constitutional candidates were waiting for President Kenyatta's approval.
"My brothers and I want to give you some respect. I told them back then that they have no plans, the problem is that they are still stuck there. Until now they are called the demolition squad because they demolished NASA and Jubilee, "he said.
He said that Mr Odinga and the politicians of the opposition parties who support your BBI were in 2017.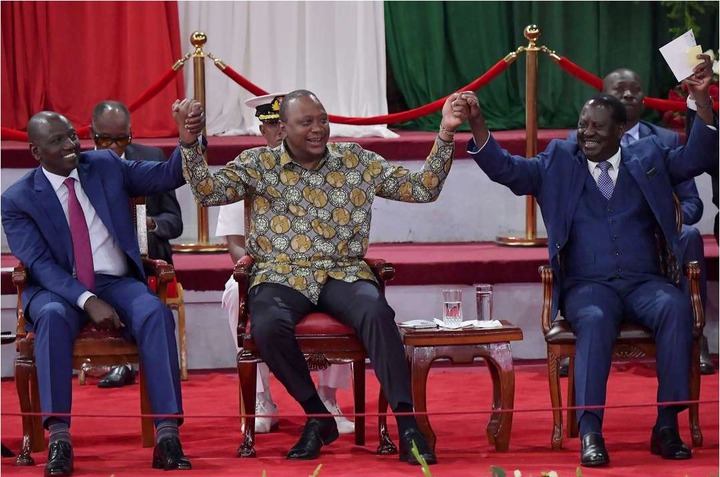 FROM LEFT: Deputy President Dr William Ruto, President Uhuru Kenyatta and ODM leader Raila Odinga at the first presentation of the BBI report at Bomas Hall on November 27, 2019. PHOTO /Courtesy
"They are where they were that day. Well, at this point you don't understand yourself, you don't know if you're in opposition or in government. Things will be the same and then you will go and make fake oaths, "he said, referring to the incident where Mr Odinga was sworn in as president on January 30, 2018 before his transfer with President Kenyatta.
Dr Ruto, who has opposed the constitutional amendment through the BBI, said that because of the lack of a plan, opposition leaders were circulating around the president demanding his support to become presidential candidates.
"How can a person from another party be approved by the Jubilee leaders? Stop cheating, bring your policies, we have said that we want to start from scratch to change the economy, stop moving around the offices, you will get stuck again. If you see someone who is in opposition waiting to be approved by someone in government, they do not understand, "he said.
He said Mr Odinga wanted to restore Kenya to ethnic politics and change the constitution to create leadership positions for a few.
He said his opponents mocked him because he was leading efforts to improve the lives of low-income people but warned that he would not stop doing so.
"Those who do not want us to start low on low-income people, let them down. Work is work, "he said.
Dr Ruto ignored the claim that he was inciting a class war by helping low-income people to grow economically.
Mr Odinga has been referring to Dr Ruto's campaign to help young people start small businesses like garbage.
He claimed that although Mr Odinga had disrupted the Jubilee agenda, he would fulfill all of them if elected president in the 2022 general election.
"We had a Jubilee manifesto in which we listed our projects and agendas but because of these factors, we were told that changing the constitution is the only vacant position, we will do it all by walking together," he said.
He urged coastal leaders to stop borrowing to form a local party and join him in the United Democratic Alliance (UDA).
Dr Ruto assured coastal leaders that he would not jump on the bandwagon to support him to win the presidency.
"The problem with Kenya's political problems is fraud, crooks cheating others during election campaigns and then jumping into power," he said.
"So, if you are looking for a gentleman who keeps his promise and his word means it, come and let us walk together. I am told you vote for someone and then they forget you, "he said.
Content created and supplied by: J.M. (via Opera News )