Raila has been renamed many names in his political career by his followers,The following are the popular Nicknames given.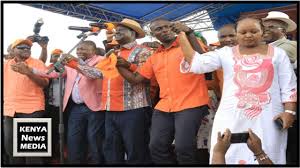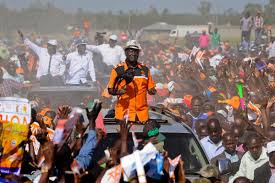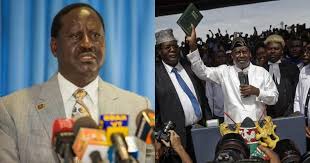 1)Ogwambo
The name has remained a mystery until recently.
In the Luo language, Agwambo can be translated to mean 'Mysterious' or 'Unpredictable'.
Grace Akumu, widow to former Cotu Secretary General Denis Akumu (late), has claimed to be the one who 'donated' the name to the NASA leader.
"Most of the neighbours referred to my husband as 'Baba Agwambo' (Agwambo's father) since I had a child named Agwambo. So the neighbours brought him to our house."
She says that it was then that Raila got impressed by the name and asked to use it as his own.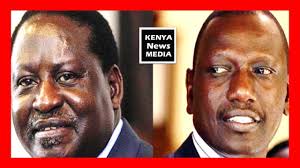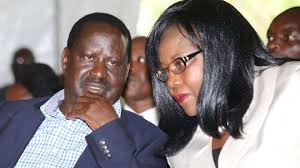 "Raila was impressed by the name, and as he was leaving he jokingly said he would wish to adopt the name, and we reluctantly allowed him," she said.
And that is how Agwambo became Agwambo!
2. People's President
The title became famous after the controversial swearing in at Uhuru Park where Raila Odinga was declared the people's president despite the fact that he lost in a hotly contested presidential election in August 2017.
Some of the people who administered the oath included the vocal leader of the defunct National Resistance Movement (NRM) Miguna Miguna and Ruaraka MP Otieno Kajwang'.
3) Baba
Baba has been one of the long standing title that Kenyans have used to refer to the political enigma given his long history in politics.
The name is used symbolically as an elder who guides his followers and whatever he says is what they follow.
Raila has been Baba for some strongest politician in Kenya Including William Ruto who is currently the Deputy president of Kenya.
4. Jakom
Jakom is also a Luo term which refers to somebody who is holding the chairperson position, leading a group of followers or simply a person in position of power.
Given he comes from the Luo community, this term is commonly used to identify him as the leader of the tribe, leader of Opposition and ODM party.
5) Arap Mibei
This is a Kalenjin term that refers to someone who helps one to cross over a river or water.
In the context of Raila Odinga, this term is often used just as the Joshua term that is used to refer to Raila as one who helped people cross the river.
The term became synonymous during his narrations on his symbolic role in leading his followers to cross the biblical River Jordan during the 2017 General Elections.
Please, share And Comment for Raila Odinga other nicknames.
Content created and supplied by: AmoSongok (via Opera News )