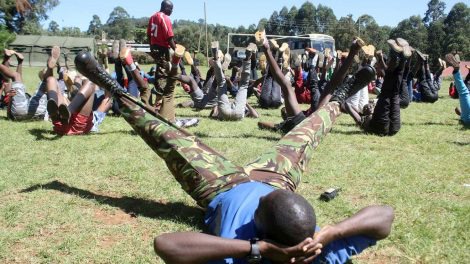 The recent KDF recruitment exercise that happened all over the country was one of the most recent recruitments we had over the last three years. The recruitment process has been having alot of issues as a result of corruption scandals that have been ongoing. From the 2018 recruitment a group of individuals found themselves in the wrong side of the law having had paid a sum of ksh. 350,000 to be admitted in the KDF colleges.
The 36 of them had FAKE KDF admission letters with the actual zeal of the government but the serial code was different from the chosen one during that time. The involved officers were no where to be found over the same having pocketed a sum of Ksh.12,600000. From the recent recruitment, hundreds of Kenyans were conned an amount that one cannot account for.
Many of the civilized citizens presented themselves for the exercise and were subjected to run over kilometers in order to secure a place in the academy. But, the funny thing there was nothing like survival for the fittest but survival for those with money. Even on the d-day of the exercise still the corrupt officers had to take heed of the large sums of money and it changed from Ksh.350,000 to Ksh. 700,000 whereby the amount was doubled. When will the narrative change upon corruption scandals on the Kenyan soil?
Content created and supplied by: Albaco (via Opera News )