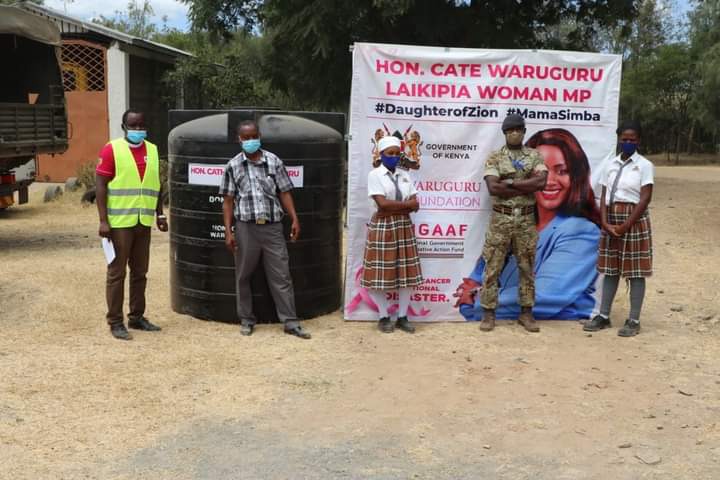 Laikipia women representative Cate Waruguru has donated water tanks to various schools in his County. 
Through his official Facebook Waruguru said water is a nececeseity to all institutions.
"Water is a necessity to all of us especially to our institutions. Thanks to my office team for delivering tanks to various schools as requested by the principals and students . Special thanks to British Army Training Unit, Kenya - BATUK for working with us as a team.We appreciate every bit of your assistance," said the Laikipia women representative. 
Waruguru is a staunch supporter of President Uhuru Kenyatta and his brother opposition leader Raila Odinga.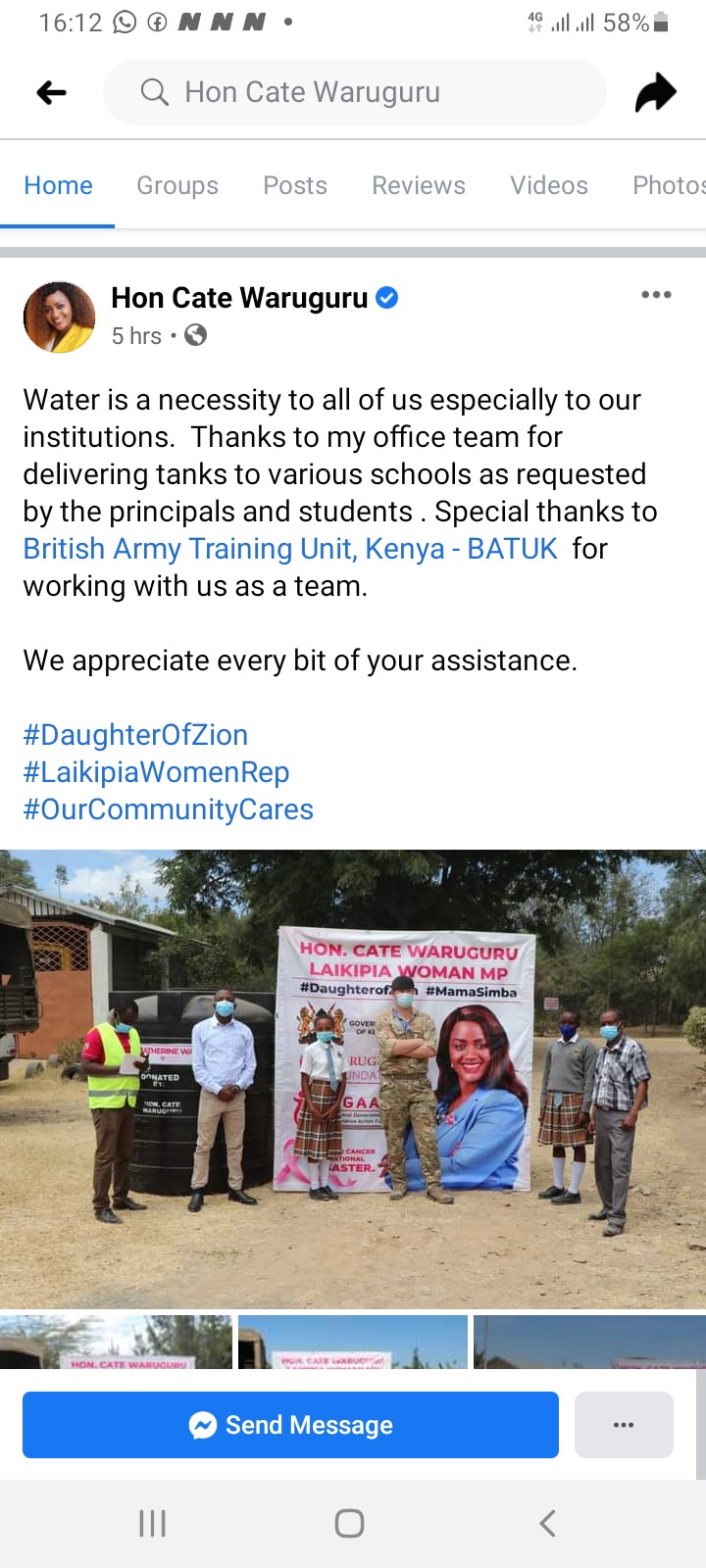 His post recieved mixed reactions here are some of their comments.
Korir Nixon says "Congrats Mama Cate But Uhuru should also pull his socks and visit these areas instead of staying in Nairobi only,"
Moses Wahome says "We need water Mama County ..to these Areas :Mutara,Ndemu,Kiahuko, Kiamariga....Wamama have been going for water for long distance....Maedeleo hapa Hakuna since 1963,"Daniel Ole Maali "We need to disitiguish these projects:These is Cate Waruguru's Foundation Score Card or AAF from Women Rep in partnership with British Army ' All the same water is fundamental for human day-to-day life.Otherwise, try as well eye on some institutions for general inclusivity.Thanks,"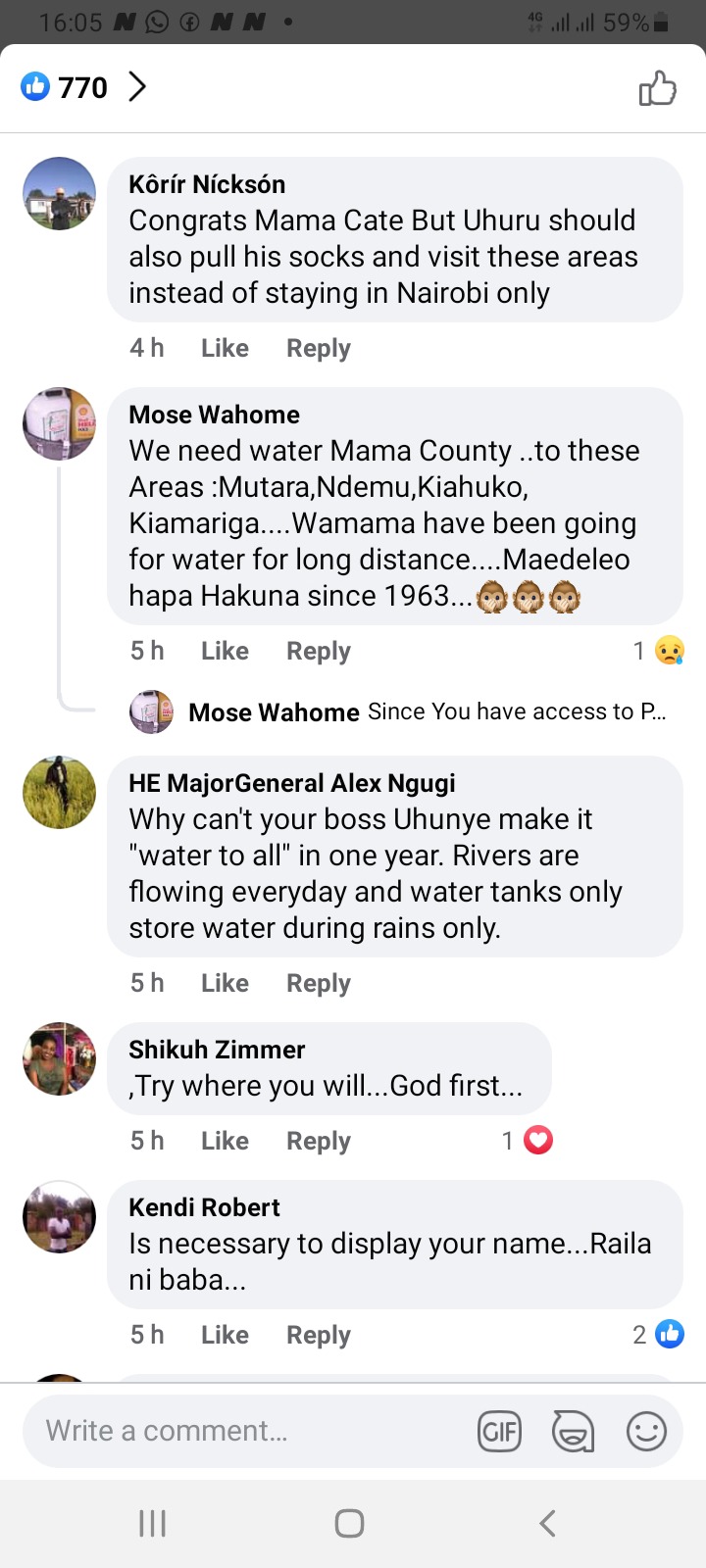 Abdi Frank says "Good work but why such a small tank for hundreds of people pesa ya kuprint hiyo banner ungenunua nayo tank kubwa,"
Aaron Wa Njoki says "Lakini mbona huwa mnaleta maendeleo wakati uchaguzi unakaribia??🤔Mnajaribu kutufunga macho ili tunadhani mnatupenda..Kisha baada ya uchaguzi mnapotea na baadaye kutokea baada ya miaka mitatu/minne hivi...Hatutaki kuchezewa shere..Kama ni maendeleo,na ianze pindi tu mnapoingia ofisini !!..Si kutuletea maendeleo muda ukiwa umekwisha,"
Content created and supplied by: ElvanisRonoh (via Opera News )