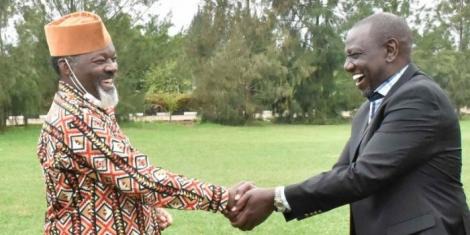 Kung'u at Karen with DP William Ruto in the past
The most feared Kiama Kia Ma group of elders has banished President Uhuru Kenyatta's cousin, Capt. (retired) Kung'u Muigai alias Kungu.
In a public notice in newspapers, Kiama Kia Ma notified all elders of Kiama Kia Ma, all councils of elders and the general public that Kungu had been kicked out.
Why he was kicked out
The elders said the suspect was kicked out as a disciplinary action due to his alleged gross misconduct, misrepresenting Kiama as a "Patron", a position that does not exist in the Kiama Kia Ma constitution.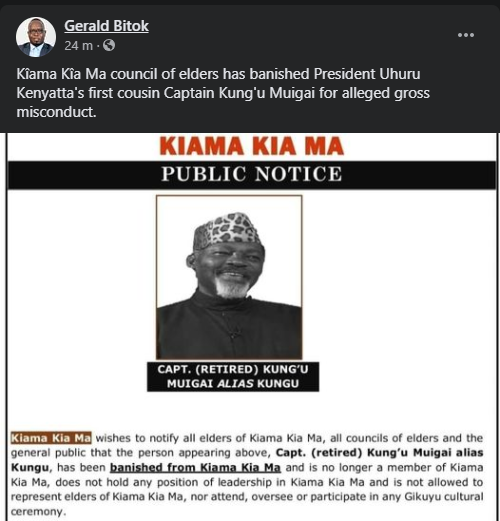 They also accused him of intimidating other elders.
"Specifically, on the 15th Mar 2021, he went to a media house and in a live show insulted all elders of Kiama Kia Ma, disparaged the leadership of Kiama Kia Ma and used unacceptable language, innuendos, character assassination, malice and casting aspersions on the leadership of Kiama Kia Ma.
"All Kiama Kia Ma elders are hereby asked to expel him from any cultural, customary rite or ceremony wherever he may set foot, gain access, attempt to enter associate with elders in any way. This notice takes effect immediately," read the notice in part.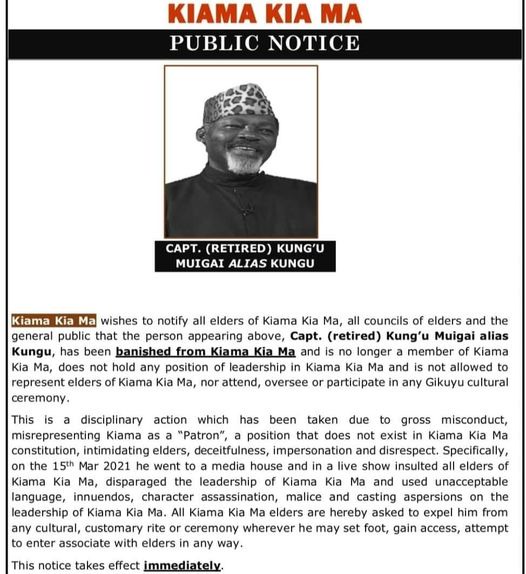 Content created and supplied by: WikiLeaksKE (via Opera News )