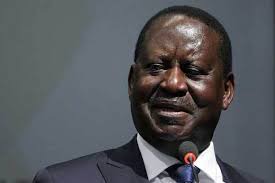 The former prime minister Raila Odinga was today attending the a requeme service where various leaders gathered to pay tribute to the late Simion Nyachae in Nairobi.
The late Nyachae died last week and will be Burried next week February 25 on Monday in c Kisii county.
Guest after guest described Nyachae as a man who helped the country greatly and that his contribution was great.
Wiper leader Kalonzo Musyoka described Nyachae as a man of great wisdom that could force members in a cabinet meeting to pause and listen to him keenly. Both Kalonzo and Nyachae served in moi gorvenment for sometime.
The CS for interior Dr Fred Matiangi who was mc at times described Nyachae as a father who helped many children acquire education back in Kisii.
He urged the community to remain United as those were the wishes of the fallen Kisii's eldest Politician.
He tasked the remaining elders like Kisii senator Sam Ongeri to lead the way in uniting the Gusii community.
However, there was a moment of comical relief when ODM leader Raila Odinga took to the podium to pay his tribute to Nyachae.
Raila narrated his family's ties with Nyachaea's that date back to 50s when he was still a young child.
The relationship between the two families wasn't that bad up until Raila said Kibaki Tosha in 2002.
The ODM leader narrated how his Declaration of Kibaki Tosha annoyed the late Nyachae "Lakini yeye Nyachae hakupendezwa na hiyo" Raila said amidist laughter from the congregation.
The two political kingpins from Nyanza have always red from different scripts ever since that betrayal happened.
Immedietly when Kibaki formed his gorvenment and failed to honour the mou, Nyachae was at hand to join gorvenment through a 'handshake' to the chargrin of Raila who went on to form an opposition that almost defeated Kibaki in 2007.
May Nyachae's soul rest in peace. Feel free to share your thoughts and comments on this on our comments platform.
Content created and supplied by: @yokeabu (via Opera News )