The war of words between Bahati constituency Member of parliament Hon. Kimani Ngunjiri and His Nakuru West counterpart Hon Arama is getting hotter, Arama had offered to give Ngunjiri a free bursary to enable him to study afresh. Kimani has however responded bravely, he has accepted the offer but says he will give it to the incoming London ward MCA who will identify a needy student to give to.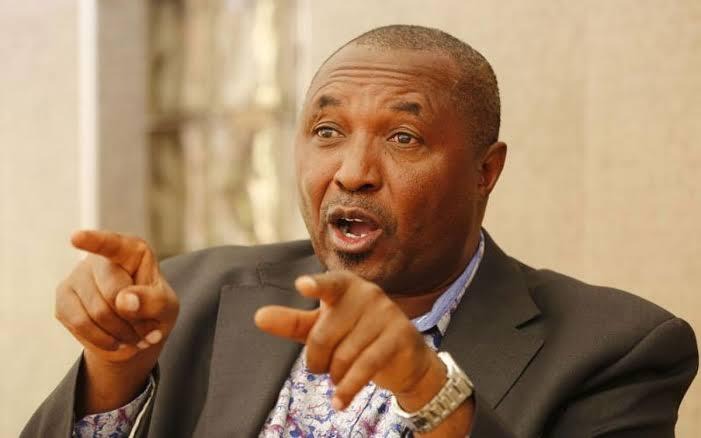 Hon. Kimani Ngunjiri Photo courtesy.
Ngunjiri has revealed that with the little education he has achieved much in his constituency unlike Arama, he says that Arama with his fake degree has achieved nothing apart from stealing from the public. He has also accused him of calling Matiangi whenever he wants to disrupt his meeting.
''Nakuru Town West has decided to offer me a free bursary to go back to school. I will not refuse the offer, I will accept it and hand it over to Nzuki who will give it to the neediest student in the constituency. This is because I have achieved a lot with the little education he purports I have whereas, he has achieved more than me with the fake degree he has which has given him power not to read but the power to grab people's properties in Nakuru West''. Reads part of Kimani's statement, he added
''His degree has given him the power to create gangs to muzzle the voices of those who are against his wrong deeds in Nakuru West. Arama today has the number of CS Matiangi in his speed dial which he calls or pretends to call when he wants to threaten those who do not conform to his ideals''.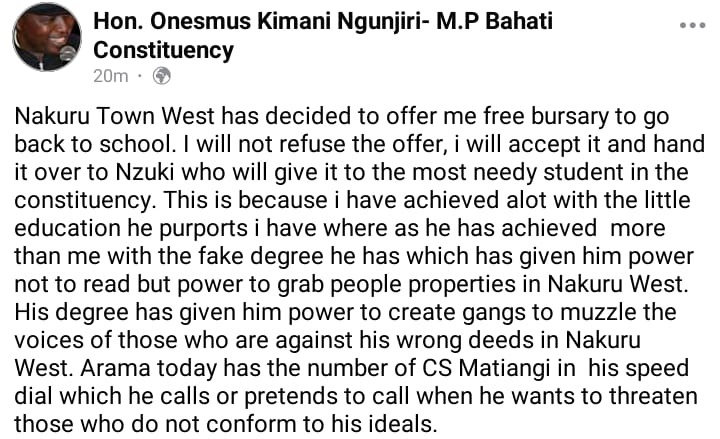 Content created and supplied by: instantNewsKe (via Opera News )