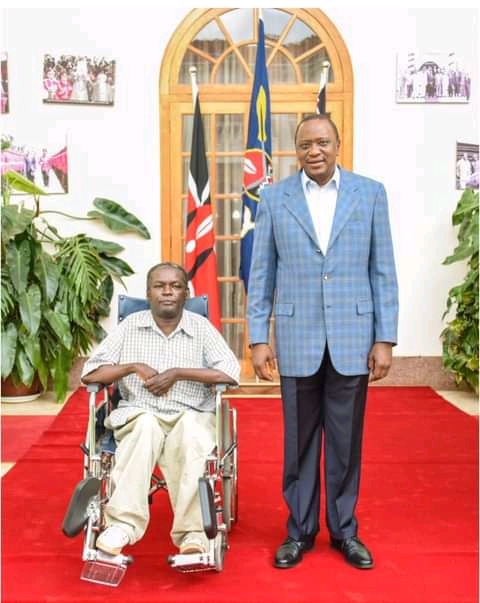 Kindness is defined as being affectionate or showing benevolence to others, simply having a charitable behavior. It's a personality trait that all leaders need to have or posses.
The president of Kenya, His Excellency Uhuru Kenyatta just demonstrated his kind heart by changing the life of a physically disabled young man that was introduced to him by senator Mwaura.
According to nominated senator Isaac Mwaura, a disabled man by the name Balozi Omino asked to he assisted in meeting the president during the state of the nation address. Mwaura says that he moved his wheelchair to where the president would pass. Omino Balozi had been invited at statehouse as a beneficiary of the president's NHIF program, he is from Kisumu.
When Mwaura moved him close to where the president would pass, some protocol people asked who he was as he didn't look that distinguished but Mwaura remained unmoved. Some inconsiderate persons would later block Balozi since he was on a wheelchair depite mwaura pleading on behaif of Balozi.
Luckily,the president came over to see Balozi after Mwaura asked him to speak to Balozi. Surprisingly, Balozi just wanted a handshake with the president. The president inturn extended his kind hand and invited Balozi over to statehouse.
Today, Balozi met with the president at statehouse. Mwaura says that Balozi's life has already changed after meeting the president though he didn't disclose Balozi's agreements of arrangements with the president.
It doesn't cost to be kind. The world would be a better place if all of us choose to be kind towards each other.
Content created and supplied by: DailyDigitalJournal (via Opera News )