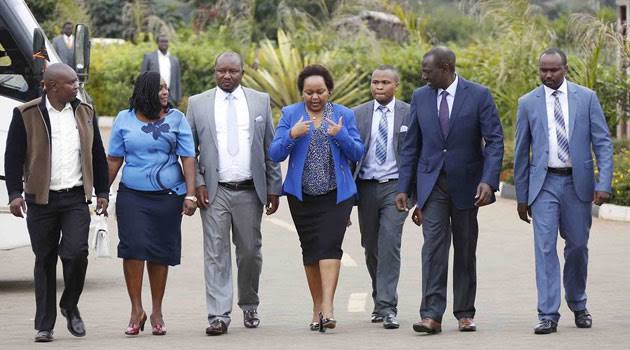 The deputy president William Ruto has maintained his firm stand on opposing BBI and has been calling for consensus.
However, as things are developing and county assemblies overwhelmingly passing the bill , Ruto can make u turn on the same.
Six counties have passed the bill and only eighteen are needed to reach threshold.
Nyeri Town Ngunjiri Wambugu has alleged that Ruto will have no choice but support BBI and join the winning team.
"VITU VICHENJAGA
I expect Deputy President William Ruto to publicly (& unconditionally) endorse the Constitution Amendment Bill (BBI) in coming days. " Nyeri Town MP Ngunjiri Wambugu.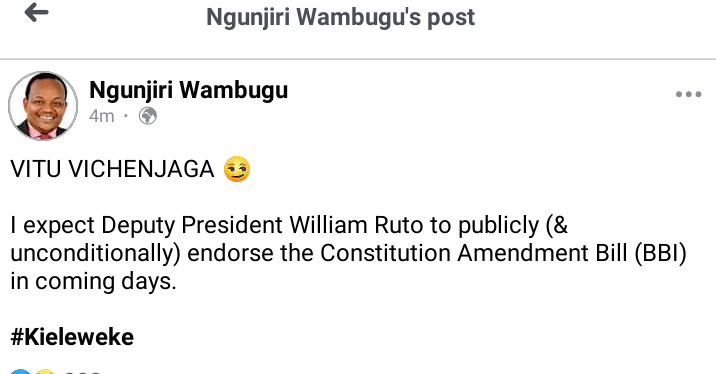 The duo has been attacking each other and is expecting the second in command to join the BBI battalion.
Kenyans have reacted to his claim as they seconded him.
Isaac Duncan
DP has no numbers as he claims.i see it ending in premium tears on his side coz BBI will pass and as BABA said this BBI is like tsunami and it will clear those who are against it like William ruto 
Omondi Odero
Ruto is weak,he can't draft and sustain a narrative/cause. I hear some of his followers say the deep State "fears" him.Does deep state nowadays even people who haven't even challenged it successfully even on a single item? 
Eldarambe NyanAra
Why do you call a Barden... Constitution ammendment bill is this a true deviation for BBI... Wajinga waliisha Kenya hiii... Be joyful but you will not graze the fruits of BBI...you won't make 2022... I keep promising you 
Fred Sankale
He is complaining that Uhuru is bribing MCAs with cars.We also ask him today to bribe MCAs with those wheelbarrows tuone 
Content created and supplied by: Mutuoth (via Opera News )