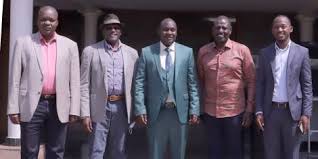 Deputy president is keen to win the upcoming by-elections in Nairobi, Matungu and Kabuchai through UDA party. He has thrown his weight behind UDA party candidates and is determined to win the by-elections with landslide.
DP Ruto has focused his energy on stepping his authority on the by-elections to state his message ahead of 2022. He won one of the seats in Msambweni and has strongly stood firm focused to take over government in 2022.
The deputy president has focused on ensuring that he wins the upcoming by-elections to ensure those against him goose is cooked ahead of 2022. He is fighting hard to regain power by first stating his political might in the by-elections.
The deputy president new UDA party is focused to ensure they win the by-elections owing they are their first candidates. A defeat in the by-elections will heavily dent the party a reason they will fight hard to win in all the by-elections in Kabuchai, Matungu and Nairobi.
Time however will tell who will win in the by-elections as for now it's only to wish them the very best and may the best candidate win. However DP Ruto may never let the new UDA party lose the by-elections as that will heavily injure his statehouse bid in 2022 and project him as unpopular candidate ahead of the polls.
Content created and supplied by: Onestrong (via Opera News )