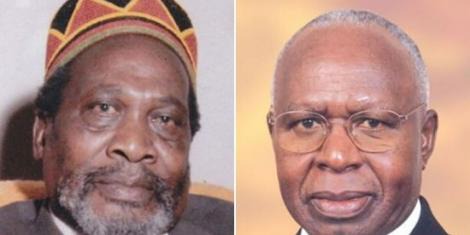 In Kenya, dynasties are known to maintain a long lasting relationships, and as for the Former President Mzee Jomo Kenyatta and Simeon Nyachae's families, theirs is too a long history.
Simeon Nyachae, who was the Parliamentary Select Committee interim chair, displaying a copy of the draft Constitution in 2005. He was neither the first nor the last in the expansive home of colonial chief Musa Nyandusi, who ruled with an iron fist. From the day he was born some time in 1932, Nyachae had to learn some survival tactics that would later serve him well in public administration and also politics.
However, some of his achievements, especially in public administration, are remembered just like the 100 and 440 yards records he set in Nyanza during his school days, which remained unmatched for 13 years.
It is against this background that Nyachae, who was forbidden from playing soccer by his father, was pressured into marrying a 16 year old girl when he was 22 and still a student.
This is the man who would later rise through the ranks of provincial administration in the dying days of colonialism and the newly independent Kenya to become a permanent secretary in charge of development coordination in the Office of the President.
He was chosen heir, who started off as a district commissioner in 1964, a job far more superior than that of a senior chief in Kisii. During this time, Kenyatta was preaching African nationalism when he heard of Nyandusi's fame that spread across the country and sought to meet him and stayed at Nyandusi's home.
As the conflict with the Britons intensified and the Mau Mau uprising began among the Kikuyu, Nyandusi kept his relationship with Kenyatta. He appointed Simeon Nyachae, Nyandusi's son, as a district officer in Kangundo in 1960, as a district commissioner for Nyandarua in March 1963, and later a provincial commissioner for Central in 1964.
Until his death, old age and health complications had kept the grand old man from public life.
Content created and supplied by: Faithmusyoka (via Opera News )