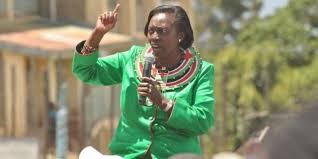 President Uhuru Kenyatta and his administration has been supporting devolution since he won the seat.Most of counties have been improved as a result of the government support.Individual counties came up with projects of which in some counties are still white elephant projects.Kenyan politics have contributed to improvements of counties projects and development.
Machakos governor,Dr.Alfred Mutua has revealed his relation with president Uhuru Kenyatta.According to him he has a cordial relationship with the Head of state.He said"The three were leading a govt. delegation to inspect progress of various devpt. projects in my county. Due to my cordial working relationship & friendship with Pres. Uhuru Kenyatta & his govt, my people have benefited from many projects and I'm grateful to the President for this."
Martha Karua has dismissed Mutua's sentiments,according to the Karua is the role of national government to support all counties.She added that the resources from national government should not be depend on 'cordial relation'.Karua said"Resources from the national government should not be dependent on 'cordial relations' in a functioning democracy but on need and equity"

Content created and supplied by: jonezokari (via Opera News )