Margaret Wambui Kenyatta was a Kenyan politician. She was the daughter of the first President of Kenya, Jomo Kenyatta, and his wife Grace Wahu.
She served as the Mayor of Nairobi from 1970 to 1976 and as Kenya's Permanent Representative to the United Nations from 1976 to 1986.
She was thereafter appointed as a Commissioner with the Electoral Commission of Kenya from 1992 to 2002.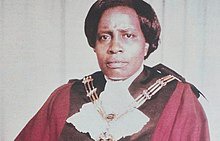 Margaret Kenyatta was born in Pumwani Maternity Hospital in the Kenyan capital Nairobi, to Jomo Kenyatta, a Kenyan politician who later became Kenya's first president, and his first wife Grace Wahu.
She was one of two children born to Kenyatta and Wahu, after elder brother Peter Muigai.
By the time Margaret was born, her father was already a political activist. He was the Secretary General of the Kikuyu Central Association (KCA) that had been formed to fight for the return of African lands that had been forcefully taken by the colonialists.
In 1929, when she was barely a year old, her father left for England to represent KCA in these discussions. He returned home the following year but returned in 1931 to England and Russia for further studies.
With her father away, Margaret grew up and lived with her mother and her older brother Peter in their family home in Gichungo near Dagoretti Children's Centre in Nairobi.
As was the custom in those days, Margaret helped her mother in day to day chores of their home.
She was an obedient, extremely neat and a very inquisitive child who asked her mother many questions about her father and why he had left and gone to England.
Even before she started school, she had developed a sharp mind and had started to become aware of the colonial injustices of the time.
Content created and supplied by: Tabaka (via Opera News )