Good morning and welcome to the daily Nation newspaper review.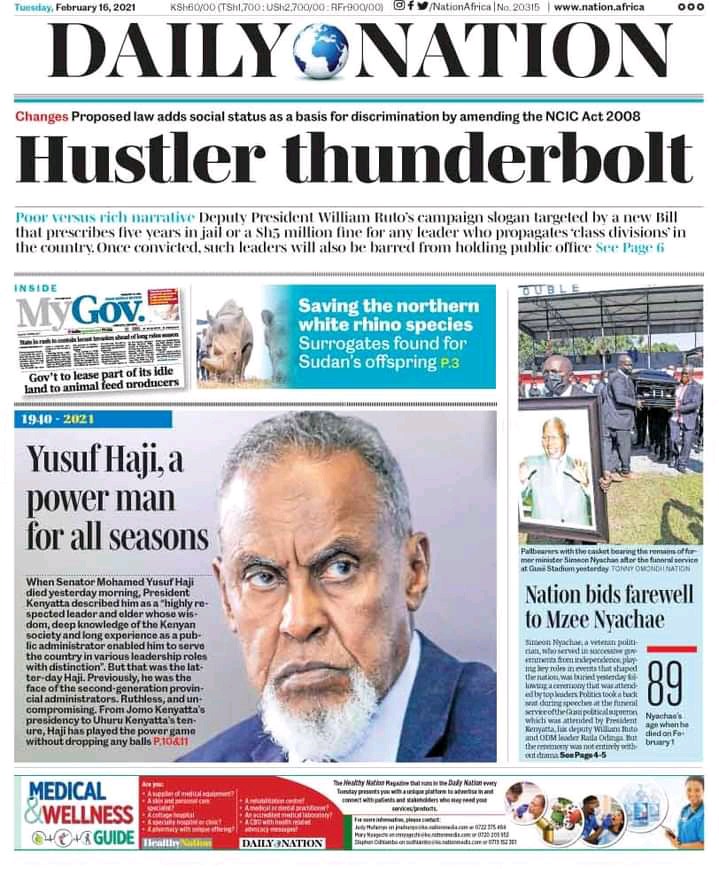 Hustler Thunderbolt. Deputy President's campaign slogan targeted by new law a new bill that prescribes five years in jail for any leader who propagates 'class divisions' in the country. Once convicted,such leaders will also be barred from holding public office.
Yusuf Haji, a power man for all seasons. When Senator Mohamed Yusuf Haji died yesterday Morning, the president described him as a man whose wisdom and knowledge in public administration is incomparable. Haji died after a long term ailment in Nairobi hospital. He is the father to DCI kinoti. Haji was the chairman of the recent BBI taskforce.
Nation Boss Farewell to Mzee Nyachae. One of the best organised funeral for a dignatary is Mzee Nyachae's burial. No more chaos were witnessed yesterday. Very calm the mourners were. The politicians avoided as much as possible to bring the issue of politics. For the first time a politician dies and politics is avoided. Gusii Stadium was renamed to Nyachae stadium Kisii. Nyanturago stadium will be made a sports academy.
Thanks for reading and sharing. Be blessed
Content created and supplied by: Mazaf (via Opera News )