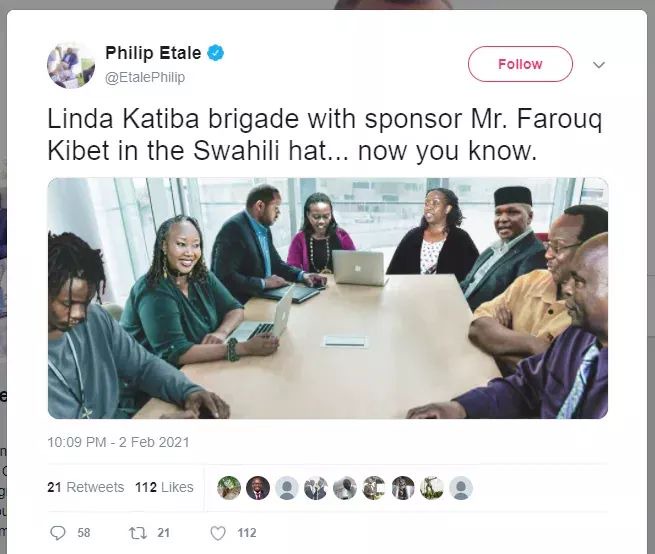 ODM spokesman Philip Etale has been accused of faking a photo to make it appear as if Linda Katiba Initiative is sponsored by Deputy President William Ruto.
Both Linda Katiba and Ruto oppose the planned referendum through BBI but they are not collaborating.
The photo, which Africa uncensored said to have been photoshopped, purports to show Ruto's PA Farouk Kibet in a meeting with Liinda Katiba.
It was accompanied by a text that read, "Linda Katiba brigade with sponsor Mr. Farouq Kibet in the Swahili hat...now you know."
But verification by Africa Uncensored demonstrated that the photo was a combination of pictures taken at different places and at different times, meaning that the were never together in one meeting.
"The image that appears photoshopped was created by putting together photos from different unrelated events," Africa uncensored said. 
"Piga Firimbi found that Farouk Kibet's photo used in the tweet was captured in 2018 at his father, Paul Teigut's funeral in Uasin Gishu County. Linda Katiba's Daisy Amdany's photo in the tweet is on the other hand similar to one published on the Hivisasa website in 2017. It is also evident that the profile image on Ms Jerotich Seii's Twitter account was cropped and added to the photo published on Philip Etale's tweet," it added.
Africa Uncensored is associated with former KTN and NTV investigative reporter John Allan Namu.
Content created and supplied by: TelegraphKenyanews (via Opera News )