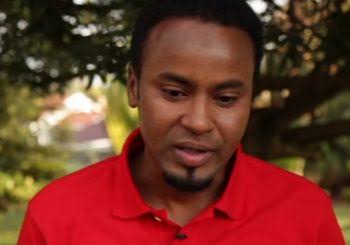 Abdul Haji, the son of the late Garissa senator Yusuf Haji, at a past event. [Source Courtesy]
The Nyeri Town member of parliament Ngunjiri Wambugu has broken his silence on the endorsement of Abdul Haji to become the next senator for Garissa by the Deputy President Dr William Ruto. In a Facebook post on Wednesday, the Kieleweke legislator said that just like the deputy president, he was also rooting for the Abdul, who has been endorsed by elders from the Somali community. In his post, Wambugu claimed that the country's second in command was taking Kenyans for a ride by making the endorsement.
Wambugu held the view that Abdul would do well as a legislator but he insisted that the son of the late legislator would only prove that he has what it takes when he starts the legislative job. The Nyeri legislator held the view that by endorsing Abdul, the deputy president was going against one of the tenets of the hustler nation of supporting unknown people who don't come from powerful families.
"LIKE RUTO I SUPPORT ABDUL HAJI FOR GARISSA SENATOR. BUT RUTO ANATUBEBA MALENGE
Mr Abdul Haji is getting endorsed for the Garissa Senate position PURELY on the basis of his second name that was built by sheer hard work by his father the late Senator Yusuf Haji. I ALSO SUPPORT HIM."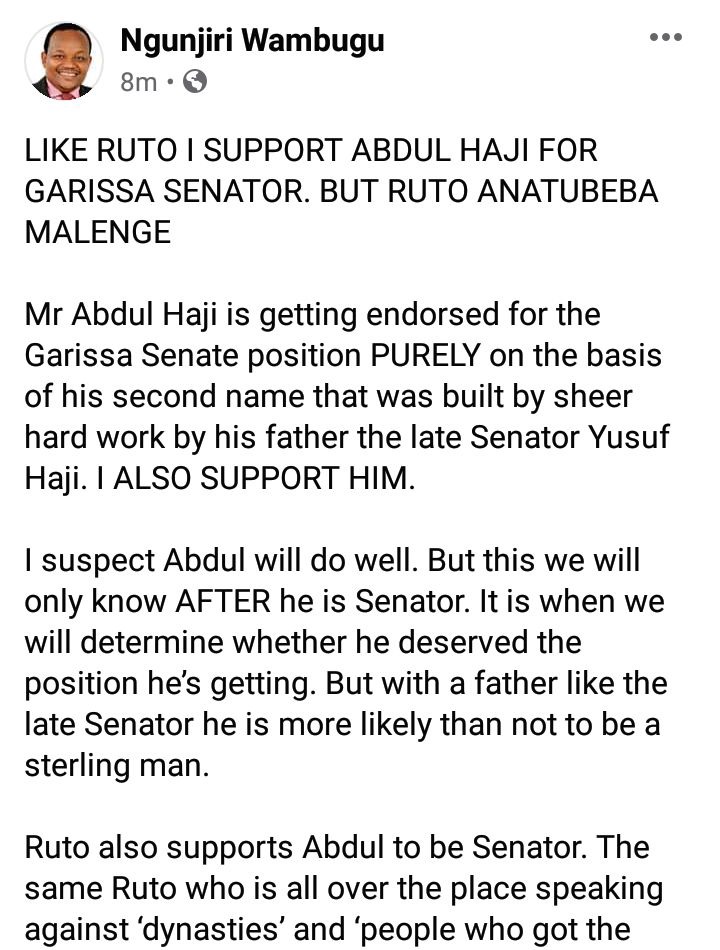 A screenshot of the Facebook post by the Nyeri Town member of parliament Ngunjiri Wambugu reacting to the endorsement of Abdul Haji by the deputy president Dr William. [Source Courtesy]
"I suspect Abdul will do well. But this we will only know AFTER he is Senator. It is when we will determine whether he deserved the position he's getting. But with a father like the late Senator he is more likely than not to be a sterling man. 
Ruto also supports Abdul to be Senator. The same Ruto who is all over the place speaking against 'dynasties' and 'people who got the positions they hold on the basis of who their father was'.
Ruto anabebanga Kenyans malenge sana, " the post by the Nyeri Town read.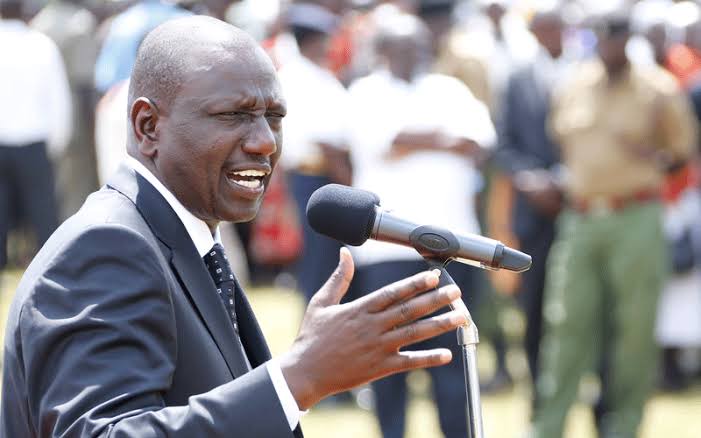 The deputy president Dr William Ruto gestures while making a speech at a past function. [Source Courtesy]
Content created and supplied by: ShemBevertonMukalo (via Opera News )