The Kimili member of Parliament Didmus Barasa yesterday while addressing his supporters said that he needed not to convince them on supporting BBI as to him it was not important to him.
He went on to say that he needed not to have any support from the document as he was able to deliver on his election promises with a a lot of ease. He said that the document to him was a waste of country's resources and that Kenyans needed to reject it without any fear.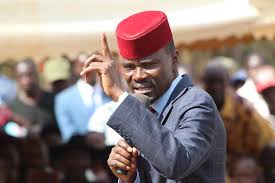 He also noted that BBI was only trying to create a few positions for some leaders just for them to maintain their political status quo regardless of the economic hard times of millions of Kenyans. He encouraged them to reject it as they were going to keep on suffering if passed.
He finally noted that it was also very vital for the people from his region to support the deputy president's bid to become the next head of state come 2022. Didmus pointed out Ruto was the only leader who was very sensitive to the sufferings of many hustlers and that he was much ready to fix that when he occupies the top office.
Attached is a video link of Didmus speaking:
https://youtu.be/cMW-knUUr3Q
Content created and supplied by: GachNews (via Opera News )