President Uhuru Kenyatta today addressed the nation just after 14 days since his last address on corona virus pandemic.
On his address the president noted with high demand that the third wave of the pandemic has paralyzed the country's economy leaving health officers with no choice but to ask him to partially lock some counties.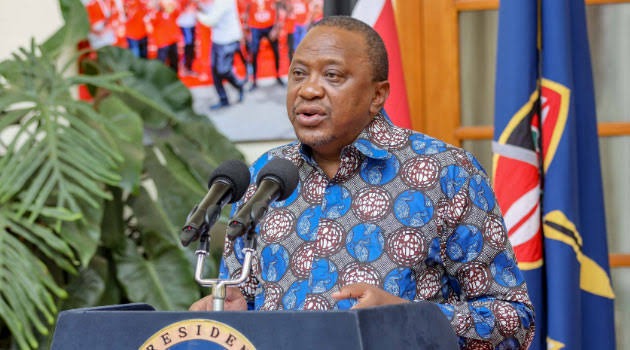 He said that the positivity rate rose by 19% by 22nd of this month which is the highest percentage recorded since the start of the year with the month of January having a positivity rate of 2%.
He set up some strict measures to curb the situation with Nairobi,Kiambu,Nakuru and Machakos being the hotspot of the third wave. The four counties have been put on a partial lockdown effective midnight.
After finishing his address the president seemed to be confused as he had forgotten where he had put his mask. Funnily he asked the stakeholders present of who could have taken his mask.
"Sasa nani amechukua mask yangu jameni?" He asked while laughing. Translated to "who has taken my mask now?" He then found it under the address table.
Do you support the president's step to partially lock the four counties? Share withus your views.
Content created and supplied by: Msafill (via Opera News )