Gamblingband betting companies seem to be having rough times with Government as the Cabinet Secretary Dr. Fred Matiang fights to kill the gambling among Kenyans and especially the youths.
On Saturday, 26 gambling machines amounting Ksh.700000 were seized in a 3-month crackdown excercise and burnt down.
According to Mwangi, the Garisa County Commissioner said that the crack down excercise which started in December last year and still going on is meant to confiscate illegal and unlicensed gambling machines and companies.
This Follows the Cabinet Secretary Fred Matiang's directive to tame gambling activities among youths.
Mwangi: We're targeting illegal gambling activities in the county.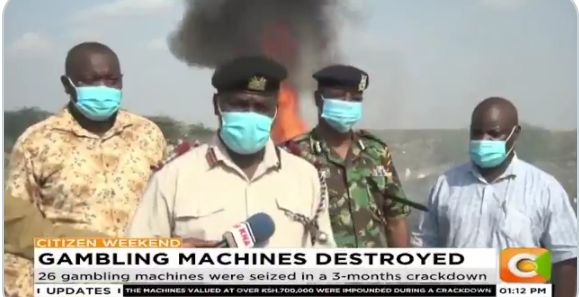 The Government has warned all gambling operators to cease from the activity before the long hand of the Government rests upon them. The Government also reiterated that the unlicensed companies will be taken on them and even taken to Court to face the law.
Do you think that this bold move by the government will help in the eradication of the gambling and betting activities among youths? Kindly comment your view or what you think could help.
Content created and supplied by: Benadhizo (via Opera News )