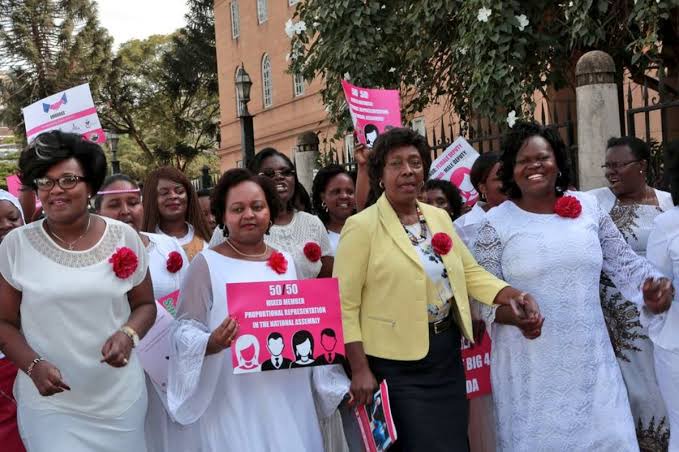 1. Scientifically, Women Leaders Are Less Likely To Get Drunk With Power, And Wealth: Men, and powerful cliques around them, who have led this country have often become obsessed with power, wealth, and tribalism.
2. Parliament Disappointed Women: The present Parliament became unconstitutional after the CJ advised President to dissolve. The main reason was failure, among other shortcomings, by Parliament to accomplish the constitutional provision on Gender. The present leadership, by means of orchestrated battles in Court, cunningly procrastinate the dissolution. Furthermore, the current system plans to use the same unconstitutional Parliament to 'rubber-stamp' the questionable BBI-sponsored Bill; over and above using the same to rubber-stamp other national bills and house businesses.
3. Women Leaders Will Be Sensitive To, Sympathetic About, And Morally Prepared To Deal With, The Plight Of Masses: The socio-economic situation for majority of citizens, which has constantly deteriorated over the years, has lately been massively aggravated by COVID. Despite the associated widespread death and suffering in society, the present political class is hell bent on spending the meager tax-payers money and hard-incurred loans to strengthen, and perpetuate, an expedient political system.
4. Women Will NOT Tend To Reduce Society To 'Beast Of Burden': Introduction of many new constitutional positions and constituencies – as proposed in BBI Bill – will terribly overburden our fledgling economy. Some of the present national leaders simply don't care about that aspect; they only aim to indefinitely remain within the ruling elite.
5. Women Leaders Will Be Less Corrupt: Currently, our country is NOT making any headway in the fight against corruption; mainly because those promising to lead the war are, more often than not, corrupt themselves.
6. Women Leaders Will Be Caring To Youth: Many leaders in Kenya have routinely paid lip-service to, and exploited, youth. For instance, recently, there were reports that young people engaged on "Kazi Mtaani" were blackmailed into signing up for BBI Bill, in order to be paid their dues.
7. Women Leaders Will Be Humane To Elderly: Majority of elderly in society, having been given hope and expectation of monthly cash transfers, frantically moved to and fro government offices in futile search for the money. Sadly, some of them actually ended up dying of resultant frustration and exhaustion. Furthermore, recently, there were reports that some of them were blackmailed into signing up for BBI Bill, in order to be paid the money.
8. Women Are More Sensitive To Welfare Of Physically Challenged Persons: The current system is NOT concerned. Some leaders in the physically challenged fraternity have strongly voiced their strong concern that even the BBI Bill has not captured the aspirations of those minorities.
9. Women Will Be Friendly To ENVIRONMENT: Powerful individuals in the current 'Deep State' consider the environment and nature as inexhaustible reservoirs, from which to draw resources to quench their insatiable thirst for wealth. It is our strong belief that a women-led government will treat the environment and eco-systems as very important life-supporting systems, in which society must invest resources to make them as clean and as natural as possible for the sake of present and future generations.Thanks for reading this article, kindly comment on view.
Content created and supplied by: Ridhaa (via Opera News )