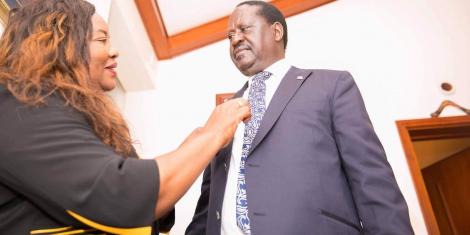 In his eminent book, "Flames of Freedom", Raila Odinga articulated that the three individuals who witnessed his father's death we're Siaya senataor James Orengo, Jaramogi's personal doctor, Dr. Odhiambo Olel and Oginga's third wife, Susan Agik.
Raila who was at Lavington at that time states in his book that as soon as his father passed away, James who had been overwhelmed with sorrow tried to reach him by phoning his house in Nairobi but he was not available at that time.
Orengo contacted Raila's wife, Ida Odinga and informed her the shocking and haertbreaking news of her father's in law death.
Raila wrote that as soon as Ida rediscovered her voice, she called him through his car phone (which he noted were a new invention then).
"In strict conformity to the Luo custom, she didn't inform me directly what had actually happened but rather asked me to come home at once because the news from Kisumu were not encouraging," he stated.
It was the break in her voice that enabled Raila Odinda predict what could have ensued and he wrote that he was sunk into an ocean of sorrow as he drove home.
" I was driving alone, and as I struggled to come to terms with the great shock and grief that had overwhelmed me," he stated.
Content created and supplied by: Timelynews.com (via Opera News )