President Uhuru Kenyatta and his deputy Ruto are undoubtedly no longer seeing eye to eye since the handshake. Everyone is now doing their things despite promising each other' Kumi Kumi'.
This act of assuming each other has brought about negative thought from people, claiming its the deputy president who is disrespecting the president.
Of late, the deputy has been on rallies to ensure he wins people's heart, so they can vote for him.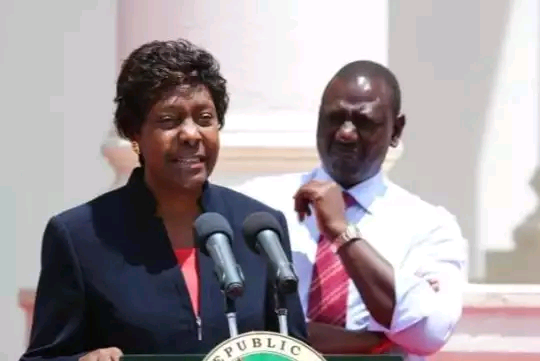 But on The Star Kenya post on their social media pages, Charity Ngilu the governor for kitui is seen and heard blaming Ruto for being a hindrance to the president development. She claims that he is busy winning peoples hearts for him to become president instead of helping the boss Uhuru in his Agenda.
After seeing this, Kenyans had mixed reactions on the comment section with others supporting her while others criticized her saying she is mean.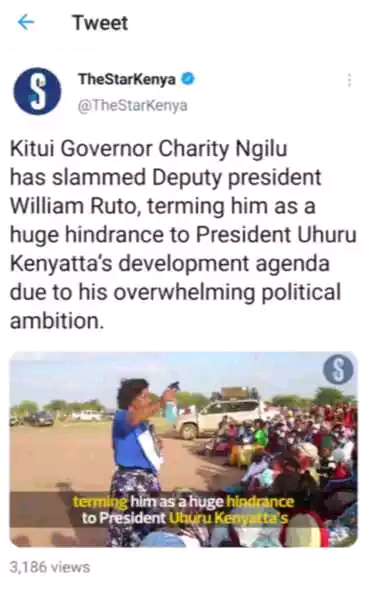 "Kitui Governor Charity Ngilu has slammed Deputy president William Ruto, terming him as a huge hindrance to President Uhuru Kenyatta's development agenda due to his overwhelming political ambition."
See what some Kenyans said,
@Mumbura Lawrence, "When I see every notable leader in Kenya attacking wsr I turn my face towards the mountain and pray for Ruto. He will need an angel of war Michael to overcome the onslaught."
@Victor Paul, "We kula maembe na upatie wakamba maji. You're busy engaging a deputy president of a Republic while the people in your county are still waiting for the 'ndengu' market you promised, water, health and other essential services. Fagia kwako kwanza mamii 😏😏."
@Dennis Maina, "Joho, ngiru, mdv, kalonzo, Weta, UK.wote ni Ruto, Ruto, ruto... What a fruitful tree..kutoka Leo, I will be supporting ruto thus where the fruit of this nation lie."
@BMuhandis, .. "Nonsense.! Kila wakati ni Ruto.. ata ukienda choo..🤔 wacha Maneno ya shetani. We press On.. until Kenyans are liberated. We must maliza the serpent b4 it swallows innocent p'ple. We can't afford to maintain it. #BBINonsense #RejectBBI"
@Erastus Kimanzi, "Wewe Ngilu Kila Mara Ni chuki ! Hasira zako na Ruto na mahali mlikoseania usiweke chuki Hadi serikalini !"
@Daniel, "What can Uhuru do in one year that's failed for 4years?? Kenya haina wajinga."
@Mimi Aziel, "U dont have 2 blame ruto in all uhuru's failures blame it on alcohol."
@Felix Otieno, "Charity Ngilu is the worst woman thief. Worse than Waiguru."
@LabanKitele, "@mamangilu was fired from cabinet for being corrupt. CS Karoney is struggling to cure the rot she left in the lands ministry. She carried the cancer to Kitui county and burnt down the finance office to conceal the evidence"
@NjongeAhmed, "Late Michuki once said Ngilu is only good for that akamba dance with one foot in Jubilee and the other in NARC."
@Falozil Mbuvi, "You were sacked by President as a nonperforming cs and u are complaining about Dp."
@Abed Rono, "When did fighting DP William Ruto became the 5th agenda for Mr. president and his surrogates and sycophants????"
@Samuel Mwangi, "Old woman you have been in government for long what have you offered."
@ Nicholas Joseph, "Ruto tosha, kiboko Yao, the name Ruto is like death alarm to his opponents. Ruto has become the agenda of his opponents instead of them finding new ideas and strategies to market themselves 🤣🤣🤣."
Content created and supplied by: starlightstudio (via Opera News )