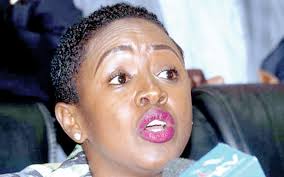 Muranga County Women Representative Hon Sabina Chege has joined Tanzanians and the world to mourn the passing on of the late Tanzanian President John Pombe Magufuli.
In her message of condolences to the people of Tanzania, Muranga MP has lauded Magufuli as a strong African leader who could fight tooth and nail for his people.
According to the lawmaker, the late father of Tanzanians was a strong Christian who believed in God and the church institutions and this stands the reason Magufuli fought with the church during the Covid-19 prevalence in the country.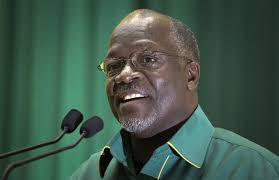 President John Pombe Magufuli succumbs to heart disease/Courtesy Photo
"President Pombe Magufuli cherished church institutions and his faith and believe in God was not only admirable but also characterized a firm and strong believer," Sabina Chege lauded late President Pombe Magufuli in a post.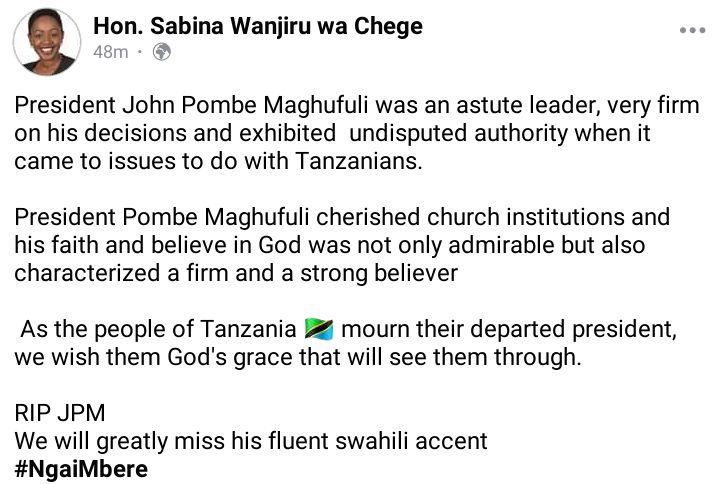 Sabina Chege lauded that President John Pombe Magufuli shall be remembered for his Christian nature alongside the fluent Swahili accent/ Screenshot post
As most leaders across nations mourn the departed hero, many cheered and remembered him for his fluent Swahili accent.
Content created and supplied by: GreenKENews (via Opera News )