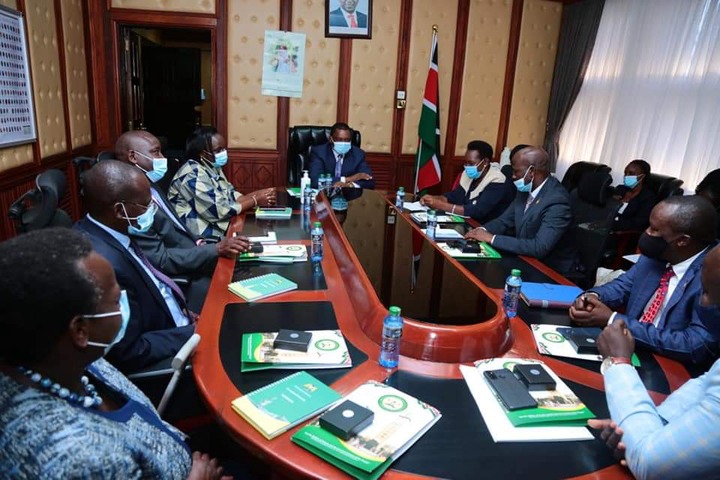 The Speaker of the National Assembly, Hon. Justin B. N. Muturi, today hosted a visiting delegation of Members of Parliament and staff from the Ugandan parliament, under the auspices of the Commonwealth Parliamentary Association (CPA).
While welcoming the delegation, Speaker Muturi highlighted the importance of the continued cordial bilateral relations between Kenya and Uganda, adding that their continued collaboration is important since the two nations are faced by almost similar challenges, most often than not, thus requiring their synergized approach.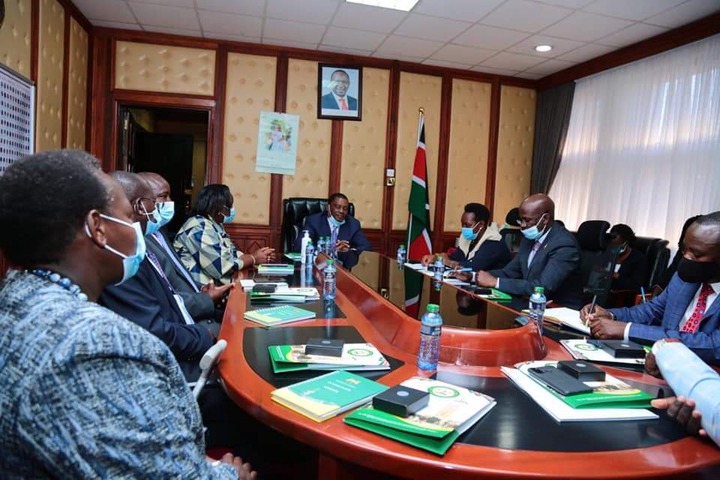 Citing the adverse effects that the COVID-19 Pandemic has had on the smooth running of parliamentary operations and proceedings across the region, Speaker Muturi highlighted the trail of set-backs that the Kenyan Parliament has had to deal with, including the loss of lives of Members of Parliament among others. The leader of the delegation, Hon. Bintu Lukumu Ngonzi Jalia, noted that they shared the same challenges with the Kenyan Parliament, adding that the Ugandan Parliament had also lost two members to the virus.
The Ugandan delegation lauded the Kenyan Parliament for successfully carrying out continuous sittings during the pandemic, and commended the Speaker for steering the House through the difficult times that not only brought about challenges of physical attendance of house proceedings, but necessitated the revision of the Standing Orders to accommodate the changes.
Uganda, having undertaken a general election last month, also sought guidance and a comparison of notes on modalities adopted by Kenya for the induction of new members of Parliament to the CPA caucus. 
While sharing highlights on the key areas of focus as a way of popularizing the CPA among Members of Parliament, the Speaker noted that Kenya has a total of 177 of the 347 Members of National Assembly, as well as 38 of the 67 senators registered as Members of the CPA.
The delegation is set to pay a courtesy call to the Speaker of the Senate, The Rt. Hon. Kenneth Lusaka tomorrow, after which, they will have a further consultative forum with the Executive Committee of the Kenyan Chapter of the CPA.
On Thursday, the delegation, in a process led by Hon. Speaker Justin Muturi will participate in a tree-planting exercise at the Kenya Parliament Buildings in accordance with the Resolutions of the 64th Commonwealth Parliamentary Conference held in Kampala Uganda, which guided that all Commonwealth jurisdictions should launch the 64th CPC Forest Project under the campaign 'Plant a CPC Forest'.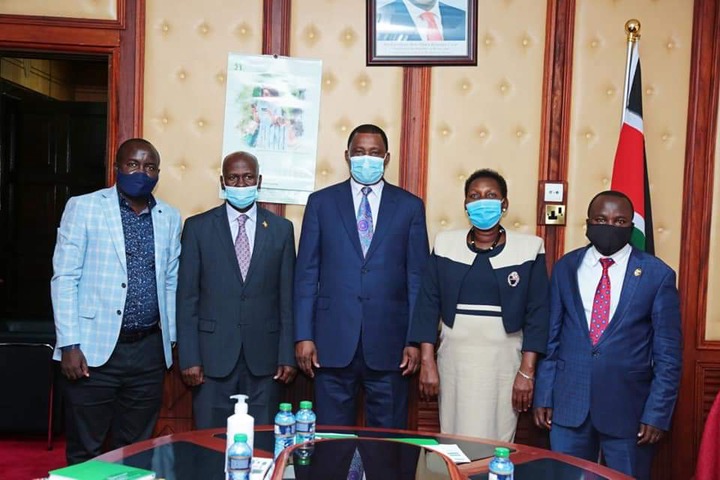 The delegation which is in the country on a study visit to exchange experiences with their CPA Kenya counterparts comprises of :
1. Hon. Bintu Lukumu Ngonzi Abwooli Jalia, MP – Leader of Delegation
2. Hon. Elijah Okupa, MP
3. Hon. Nsubuga Simeo Muwanga, MP
4. Hon. Patrick Nsamba Oshabe, MP
5. Mr. Paul Gamusi Wabwire – Deputy Clerk, Parliamentary Affairs
Content created and supplied by: Kenyanewszjunky (via Opera News )