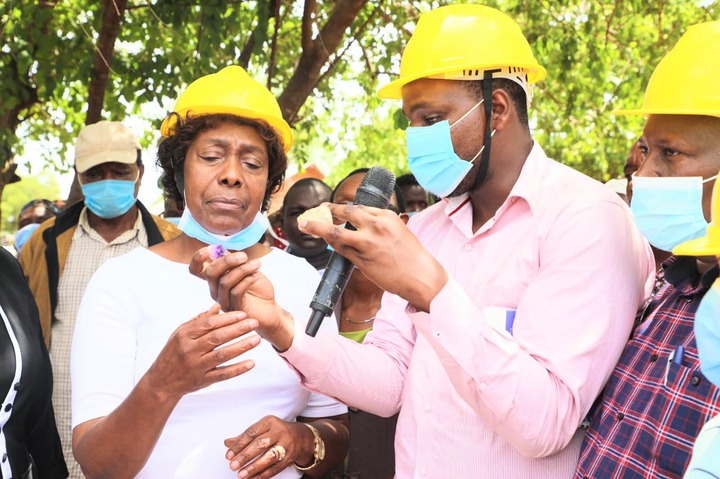 Kitui Governor Charity Ngilu admires a gemstone during the launch.(photo/courtesy)
Large scale artisanal mining in Kitui is set to kick off without delay, Governor Charity Ngiu has said at the ground breaking ceremony held at Kawala in Kitui East.
Governor Ngilu said mining will commence henceforth noting she will link up the miners with relevant mineral agencies for market linkages.
She said the county is endowed with huge deposits of assorted minerals that will significantly contribute to wealth creation.
"This county is a mineral rich place. We must exploit these minerals and ensure locals here benefit," said Ngilu.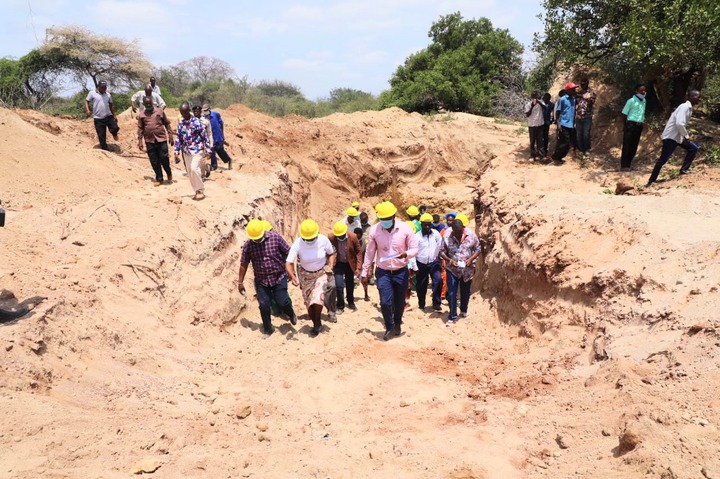 Governor Ngilu and her entourage inspecting one of the mines.(photo/courtesy)
Kitui homes a hoard of minerals including limestone, iron ore, manganese, graphite, coal, gypsum, gemstones, granite, trachyte, phonolites, marble and quartzites.
The county artisanal mining committee was gazetted recently paving way for the commencement of extraction activities along the stretch from Kasaala in Kitui South through Mutitu and extending to Usueni in Mwingi North area.
The County government has supported, among others, Kawalite and MKM mining groups with earth moving equipment for bush clearing to remove the top soil and bushy covers at the mining sites.
Kitui County Government is in the process of establishing a testing and value addition centre to improve on value and market penetration.
Content created and supplied by: WalterMark (via Opera News )