Good morning and welcome to today's Nation discussion.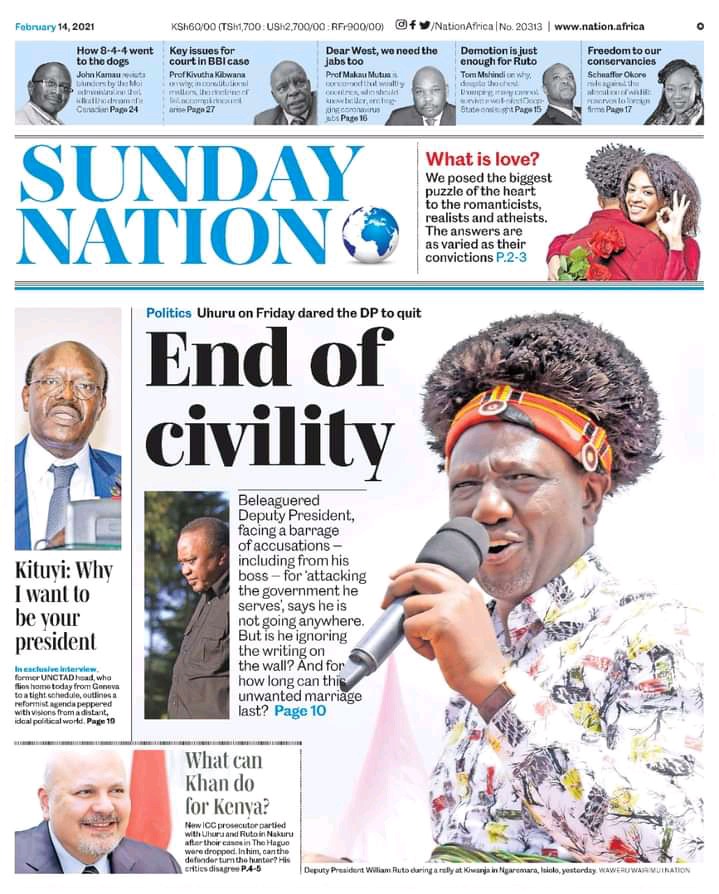 End of Civility. Beleaguered Deputy President, facing a barrage of accusations-including from his boss- attacking the government he serves. Says he is not going anywhere. But is he ignoring the writing on the wall? And for how long can this unwanted marriage last. Is this the end of it or it's just about publicity?
What can Khan do for Kenya. Khan was the ICC lawyer who represented the deputy president in Hague. When the deputy and the president were facing an uphill task to defend themselves. Now he has won to be the prosecutor in Hague. Can the defender turn the hunter? With elections period near and several speculations rife, will he finally come to investigate in Kenya?
How 8.4.4 went to the dogs. The 8.4.4 system has been widely used in kenya. Several people are used to he system alone since it's introduction in early 1980s. However the ministry of education ignored it and threw it to dogs. Now a new format known as CBC will be introduced. The new education system isn't understood well by many.
Thanks for Reading and Sharing. Be blessed
Content created and supplied by: Mazaf (via Opera News )