Previous UNCTAD Secretary-General, Mukhisa Kituyi is looking at an official seat in 2022, at Friends Church Makadara in Nairobi for help, on Sunday, February 14.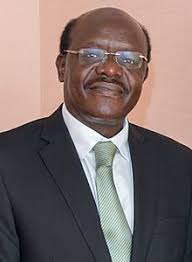 Previous Secretary-General of the United Nations Conference on Trade and Development (UNCTAD) Mukhisa Kituyi says he realizes he is in for a rough ride in front of the following year's survey. 
Talking at Friends Church Makadara, Kituyi additionally encouraged pioneers to rehearse persistence and resilience against different pioneers with opposite feelings. 
"It's an ideal opportunity to dispose of poisonous governmental issues and work towards an extraordinary country. We need to regard the assessments of everyone," he said. 
Kituyi who as of late dispatched his 2022 official offer said he is hopeful and certain about driving the country the correct way whenever chose. 
"I know where I am going and what I should handle. I need you to appeal to God for me to get the astuteness so what I talk or do will be of shrewdness," he said. 
Kituyi, who likewise filled in as Kimilili MP, quit as the secretary-general of the United Nations Conference on Trade and Development (UNCTAD) to run for the administration in 2022. 
Previous UNCTAD Secretary-General Mukhisa Kituyi tends to a gathering at Friends Church, Makadara in Nairobi. [David Njaaga, Standard] 
About the previous MP 
He was chosen for the Kenyan Parliament without precedent for 1992 on a Ford-Kenya ticket and was reappointed in 1997 and 2002 as Kimilili MP. 
He was additionally Kenya's Minister of Trade and Industry from 2002 to 2007. During this period, Kituyi led the Council of Ministers of the Common Market for Eastern and Southern Africa (COMESA) and the African Trade Ministers' Council for a very long time. 
He additionally filled in as director of the Council of Ministers of the African, Caribbean and Pacific (ACP) Group of States, and was the lead mediator for Eastern and Southern African clergymen during the European Union-ACP Economic Partnership Agreement arrangements. 
He was convenor of the agribusiness arrangements completed at the World Trade Organization's Sixth Ministerial Conference held in Hong Kong, China in 2005. 
From 2008 to 2012, Kituyi was an individual from a group of specialists educating the presidents regarding the countries of the East African Community on the best way to build up more viable provincial financial connections. 
From 2011 to 2012, he was a specialist for the African Union Commission, where he assisted with building up the design for a container African deregulation zone. 
Preceding turning out to be UNCTAD Secretary-General, Kituyi was Chief Executive of the Kenya Institute of Governance situated in Nairobi.
Content created and supplied by: @CitizenTV (via Opera News )