Hallo and welcome to today's newspaper review.
1 Taifa Leo
The main headline on Taifa leo is on the deputy president William Ruto's campaigns which haven't born fruits in the recent past and now they are being termed as Barren.
Despite investing heavily on the candidates he sponsors in the recent By-elections, returns haven't been promising.
Ruto has been drawing huge crowds in his hurstler Campaigns where he tells his Supporters that he knows the problems of the low class people and knows how to fix them but it seems he is yet to convince them to vote for him.
He has held many rallies at the coast, Meru, western, Kisii, mt Kenya among Others with little outcomes.
In another story, Taifa Leo's jamvi la siasa delves into what the ODM leader Is thinking should Uhuru Kenyatta betrays him.
It's worth noting that his close leutenants James Orengo and otiende Omolo have already raised red flags when they accused some deep state officials of scheming to shortchange Raila ahead of 2022.
Politics of betrayal have been around for sometime, the first one being when Jaramogi fell out with Mzee Jomo kenyatta and then Raila and Kibaki in 2002 when the mou was discarded. If it happens again this time round which options are there for Raila?
And finally Ruto's lawyer karim khan will withdraw from his case having been appointed an ICC prosecutor.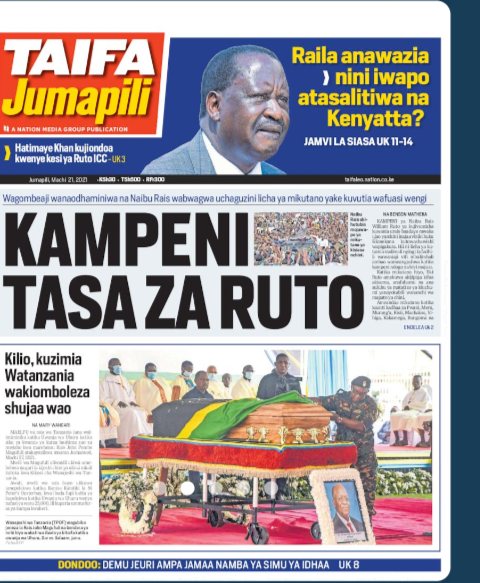 2 daily Nation.
The daily nation's headline is about Raila's friendships with Magufuli as he details their approaches to the fight against corruption. In The Magufuli I knew, Raila writes about a man who grew to become his soulmate and close friend.
In another story, the good the bad and ugly of Ruto's hurstler Politics is explored in details with the number two in command having suffered defeats in the recent By-elections.
In yet another story, details of a shadowee Russian national in Kenya's ksh 139 billion loan are out.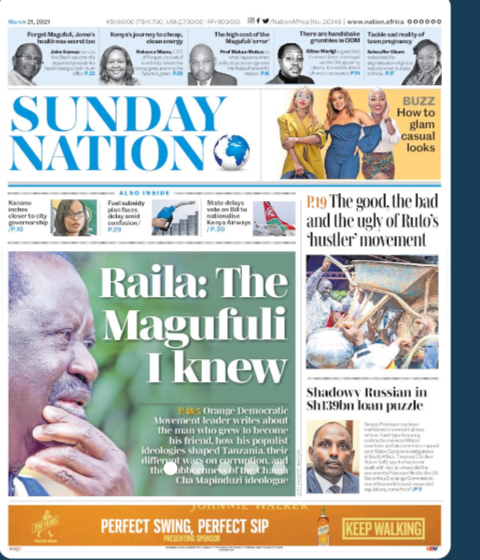 3 the Standard
The headline is about the deadly third wave of COVID-19 with the mighty being hit hard.
Several VIPs are fighting for their lives in various hospitals across the country as the coronavirus claimed the life of Kericho DG Susan kikwai.
Kikwai died on Saturday at 9am while undergoing treatment at Siloam Hospital in Kericho where she had been admitted for the last five days. 
On Friday, Mandera's CEC Finance and Economic Planning Ibrahim Barrow Hassan succumbed to the disease and was promptly buried.
He was eulogised by Governor Ali Roba for "transforming financial management in the county with very special commitment to deliver results." 
Former prime minister of Raila Odinga is yet to be cleared of the disease, with earlier reports saying he had a relapse which was quickly managed before he want back in to isolation at home.
Neru Gorvenor kiraitu Murungi contracted the virus a few days after getting vaccinated.He was still in hospital by last evening.
"Governor, I wish you a quick recovery. These are indeed trying times but we shall overcome," Cabinet Secretary Peter Munya said on Saturday.
In another story, Raila's love for Pombe has now been cronicled. Raila and Magufuli were more than just friends.
Theirs was a bond borne from a deep belief in each other's intentions for their respective nations.
At different points in their political careers, Magufuli trusted Raila to provide sound leadership to Kenya and the former Prime Minister believed that his friend was Tanzania's best bet for the nation to prosper.
So strong was this faith that the late Magufuli, then a minister in 2013, would support Raila's presidential bid in even when his nation's dictates forbade it.
And Magufuli did more than offer Raila support. He donned ODM's party colours during a 2012 national delegates' convention to express his support for the ODM leader.
For these and more Stories, grab yourself a copy of your choice.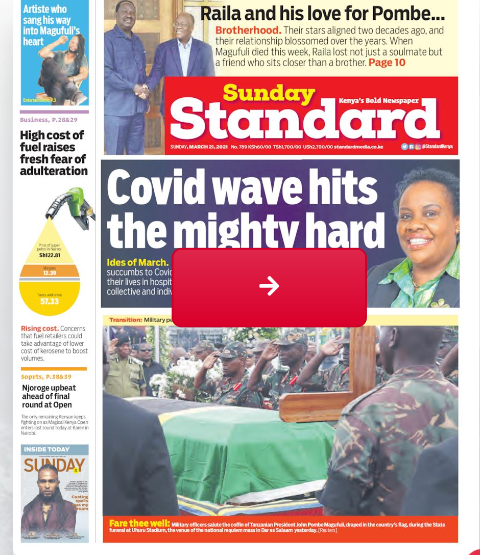 Which optiins do you think are available for Raila should he be betrayed? Feel free to share your thoughts and comments on this on our comments platform.
Content created and supplied by: @yokeabu (via Opera News )