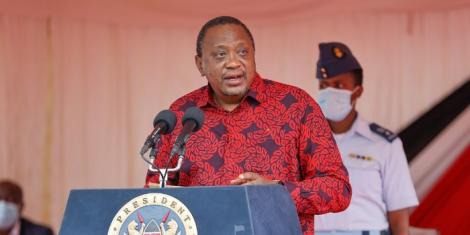 Uhuru Kenyatta says he won't give up Kenya to hoodlums. On Wednesday he emphasized his longing to leave the country in the possession of mindful pioneers. 
Addressing a side of the road gathering in Nairobi, the Head of State said he was focused on guaranteeing Kenyans were in safe hands and helpless before individuals who plan to advance themselves. "I plan to guarantee that the individuals who will assume control over force won't adventure and take from Kenyans. "I need the following government to cultivate solidarity among our kin not gap them," he said. 
The President likewise had a directive for the individuals who have been criticizing him saying he wasn't annoyed by their abuses. "I'm centered around satisfying my vows to Kenyans… some have recommended that I may stick on to control. "I realize I am returning home one year from now [sic]… I don't disapprove of that," he commented. 
The Head of State likewise set aside effort to rustle up help for the Building Bridges Initiative (BBI) saying it has such countless advantages for the regular mwananchi. 
Prior, the President said the public authority is resolved to keep establishing a helpful climate for limited scope dealers to succeed. 
The President said his craving is to see miniature, little and medium undertakings developing and making work for the numerous jobless Kenyan youth. 
Talking at the National Cargo Deconsolidation Center (NCDC-Nairobi) where he made a subsequent examination of the Government stockroom which was as of late extended from a limit of five 40-foot compartments to fifteen such holders, Uhuru noticed the extension of the stockroom was because of the conversations he had with the limited scale merchants saying, a nation must be created when residents figure out how to talk about issues and think of answers to assist all. "I'm appreciative today we are here seeing the improvement made. I need to express gratitude toward Kenya Railways and Kenya Revenue Authority for striving to guarantee this office was finished," the President said. 
As a feature of the Government's obligation to supporting private ventures in the country, the President said the expense of nearby assessment of imported products was brought from 5 down to 0.6 percent of customs esteem. 
"During my visit on tenth November 2020, you mentioned me to have the expense of neighborhood assessment diminished from 5 percent of customs incentive to 0.6 percent. This was to decrease the expense of importation and advance development of your organizations," President Kenyatta said.
Content created and supplied by: Donaldokip (via Opera News )