Officials from Total Kenya Company have made a courtesy to the office of Kakamega deputy governor H.E Prof Philip Kutima to cement their business partnership with the county.
Speaking in his office Prof.Philip Kutima appreciated and welcomed the team warmly as he assured Mrs. Olivia Ogalo manager at Card Account that the county government of Kakamega is ready to work with the organization despite the challenges that may arise.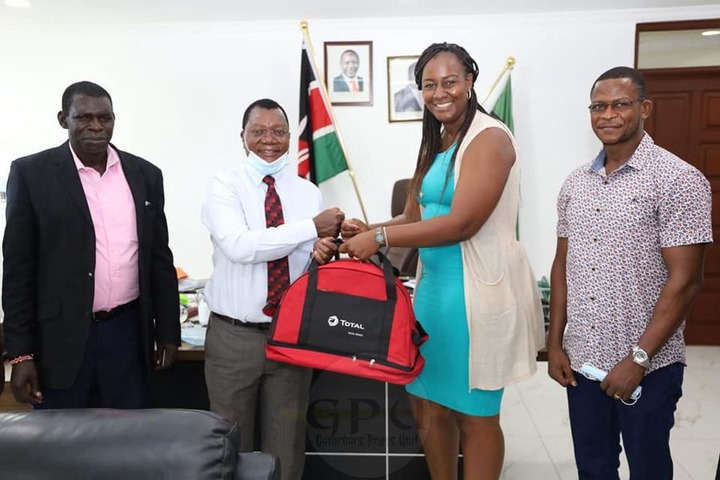 Kakamega County deputy governor.
"I appreciate the mutual working partnership between Total Kenya and the County Government. Our aim is to ensure that we deliver essential services to the people of Kakamega that chose us," Prof Kutima explained.
The deputy governor noted that he is looking forward to more business opportunities for the people of Kakamega through the expansion of the fuel business within the region, and thereby requesting other organizations that might be in need of working with the County government to move ahead.
For instance, Madam Olivia Ogalo Card Account Manager at Total Kenya in the Western region thanked the County Government for the business opportunity as she stated that; as a company, they are looking forward to partnering more business not only with Kakamega but also with other Counties.
"Kenya's economic status has been affected by Covid-19 disease. And as an organization we are on the track of ensuring that our counties restore into their productivity of which the only way is through partnership business with County governments", said Mrs. Ogalo.
On their side, the Kakamega county executive committee member for lands Mr.Robert Makhanu, Urban Areas and Physical Planning Mr. Ismael Makanga (Transport Officer), David Okello and Christabell Ochiel have thanked officials from Total Kenya Company as they requested for others more to continue visiting Kakamega County.
Kakamega deputy in Office.
..................................END...............................
Content created and supplied by: BELLBUT (via Opera News )