COTU chairperson Mr Atwoli Francis is breathing fire after the latest message from the EPRA.The COTU leader has warned the government over the their plan.According to him,the government is planning to increase the fuel price starting tonight.While releasing his statement,the COTU leader has warned the government and ordered the respective ministry to intervene.
He said"As COTU family,WE condemn the outrageous and insensitive action by the EPRA of Kenya to increase the cost of fuel. This will have a domino effect on the cost of living in Kenya with transportation and prices of goods going up. We demand that the concerned minister intervenes IMMEDIATELY."
The COTU chair has added that the increase in price will lead to increase in the commonly used commodity.As he represent all workers has openly tell the EPRA that all workers will go after them.Atwoli's words picture how our economy is ailing due to the prolonged corona virus pandemic.Will government intervene after Atwoli's uproar.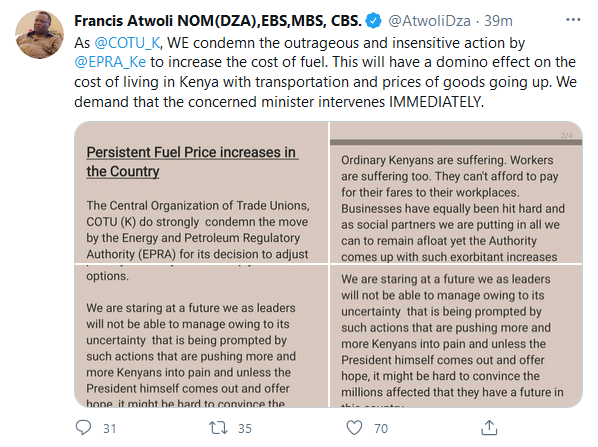 Content created and supplied by: Jonjez (via Opera News )