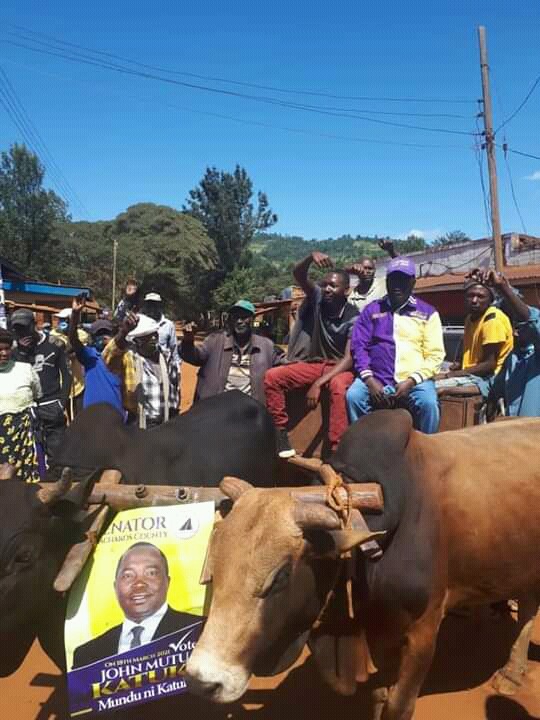 Machakos By election senatorial race is the talk of the day at the moment as candidates from all political divides measure the strengths of their affiliated political parties.Of all the senatorial candidates contesting for the seat, pressure is mounting and it is hard to predict the winner based on the divergent views from the area residents and electorates.This is an anticipated neck to neck, tooth and nail battle for all candidates have huge following and unwavering support that is bringing more confusion to predict, however it's still attracting attention of people nationwide.This comes at a time coalitions are about to be formed and the winning team is bound to form a strong coalition as it will sway more supporters to its side.
Maendeleo Chap Chap senatorial candidate,Mutua Katuku,dorned in Maendeleo Chap Chap colours has embarked on his campaigns riding on a cart, something that has attracted public attention.His style is different from the usual seeing of politicians quest for votes in posh and stylishly luxurious cars.The Maendeleo Chap Chap is also a force to reckon having served as Mwala MP in the past and also served as minister for water and irrigation during former President Kibaki's tenure and reign.
It is argued that with his past experience in political arena, his savvy and cognizance makes him a fierce contestant who can't be belittled or denigrated.
Mutua Katuku will challenge for the Machakos by election senatorial seat against his close opponents namely Urbanus Muthama(Ngengele) and Agnes Muthama.According to political analysts,it is notable that the winner will clinch the glory with a small margin
Content created and supplied by: KennedySafari!!! (via Opera News )