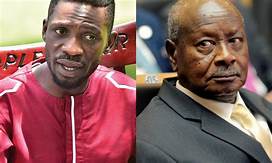 Stockton South ex-MP Paul Williams has called for the nullification of Uganda's 2021 General Elections and fresh elections organized where President Museveni won't be allowed to participate.
Ugandan sources indicate that Mr. Williams has called for stringent actions against the Kampala regime from the UK (his government), the US, EU, and AU, as the only way to end the regime in the country.
"We must insist Museveni steps down and new elections run independently in a free and fair climate so that the will of the people of Uganda can be heard," Mr. Williams said.
The Stockton South ex-MP also argued that until free and fair elections where President Museveni will not be a candidate are held, the UK and other organizations that have withdrawn their support from Uganda will remain halted.

Museveni, who secured his 6th term in the recently concluded elections, was announced as the winner by the Electoral Commission with 6 million votes. His closest challenger Robert Kyagulanyi alias Bobi Wine of the National Unity Platform party came second with 35 percent of the total votes.
Like and share with friends. Thank you.
Source: Watchdog Uganda
Content created and supplied by: Kenya-Best_TV (via Opera News )