The road to 2021 referendum polls could have just began after more than 30 counties voted to endorse the new Constitution Amendment Bill, BBI by Tuesday evening.
And with the referendum imminent, some of the tough anti-BBI proponents seems to have already accepted that the bill is going to sail through, and instead decided to weigh in on its implementations.
Taking to her twitter account on Tuesday evening, one of the Linda Katiba founder and member Martha Karua, has suggested that the 35% proposal to counties should be implemented as soon as possible.
According to her, the 35% should in fact be allocated to counties in the forthcoming budget reading in June this year. Karua said Kenyans should enjoy the allocation before President Uhuru's term comes to an end in 2022.
"The bait has been "money first, politics later' let the proposed 35% of national revenue to the counties be allocated in the forthcoming June budget to enable its enjoyment this last year of president Uhuru's reign. Anything less will confirm fraud #RejectBBI #LindaKatiba" tweeted Karua.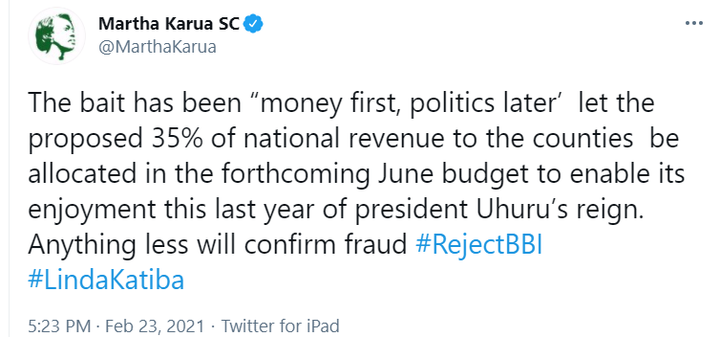 She however, maintained that they will not accept anything less than that and will continues opposing the bill.
Deputy President William Ruto's camp, seems to have already accepted the outcomes, saying BBI is not their current priority and that they are concentrating on 2022 politics.
However, they have promised to re-visit the bill once they take power in 2022, should it pass in the referendum.
Content created and supplied by: FifthEstate (via Opera News )