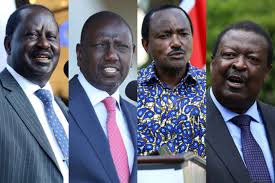 Kenya as a nation is less than one and half years away from the next general elections. Politicians have already hit the ground in campaigns to convince Kenyans to vote for them. Although as a country we are in a bad shape economically speaking, leaders don't seem to care much about that but rather their survival in the Kenyan politics. Most of them are supporting the BBI process which as they say, it will heal Kenya's future problems.
The BBI referendum is expected to take place any time before August this year. But things don't seem to be going on at the moment about the BBI process with president Uhuru Kenyatta stopping all political activities of any kind for a month.
But that one aside, In my considered opinion I would strongly advise the government to postpone the 2022 general election for at least 3 years. The president should do some constitutional changes through the parliament so as to form an inclusive-interim government. This government should include president Uhuru Kenyatta himself, Raila Odinga, Kalonzo Musyoka, Gedion Moi, Moses Wetangula, William Samoei Ruto and Musalia Mudavadi.
There objective should be to put together their minds on how to tackle the economic crisis in this country and also how to formulate the best government which will be acceptable to all Kenyans so as there is no violence after the next general election. This interim government should serve for 2 or 3 years past 2022 before elections are held. I don't know what you think but that's my take. Please leave a comment on whether you agree with me or not. Remember to Click the follow button.
Content created and supplied by: OurWorldPolitics (via Opera News )