Ainabkoi constituency member of parliament Hon William Chepkut has caused a stir online after attacking Deputy President Dr.William Ruto over his Hustler slogan.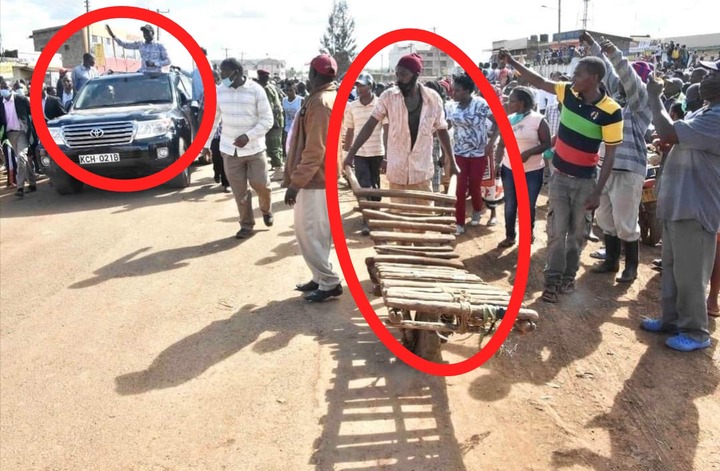 In a post on his Twitter page today, Hon.Chepkut posted a photo of a man pushing a handcart along side DP Ruto's car and said that there were two hustlers in the photo,one riding a 4500CC 20Million zero mileage 2018 V8 and another one pushing a home made cart and both are hustlers. A post which has illicited mixed reactions from Netizens.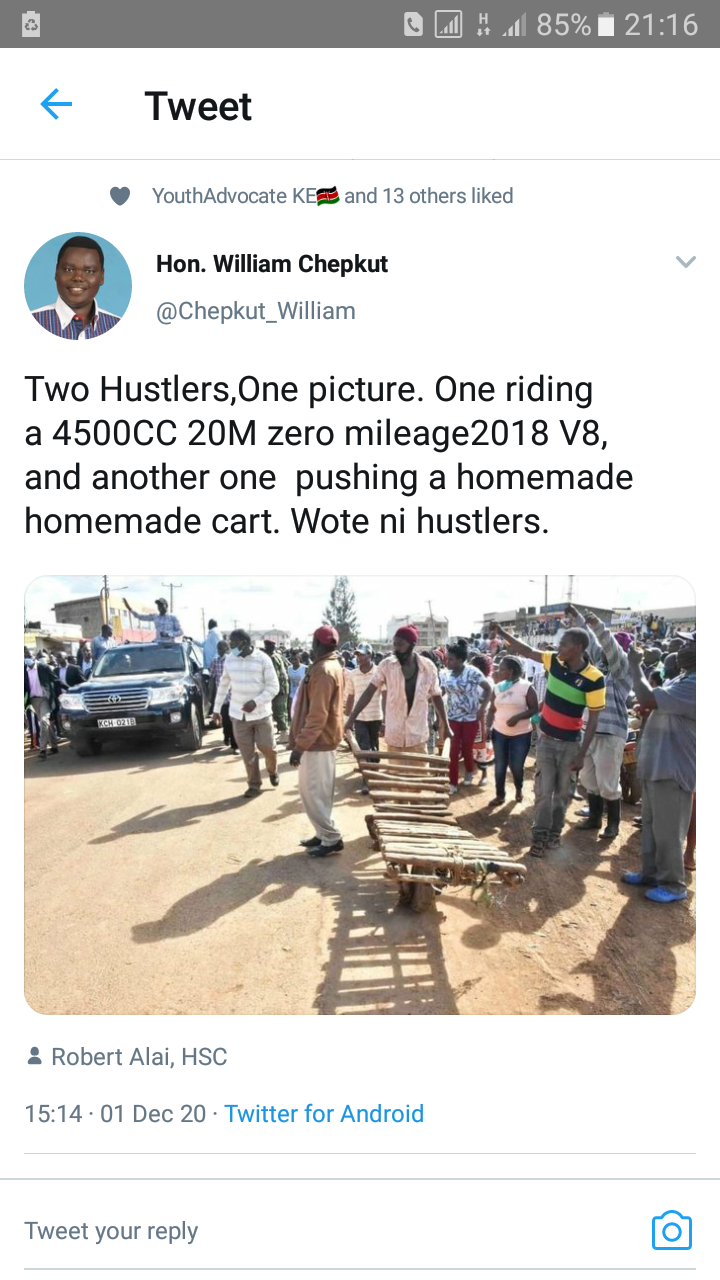 Below are Reactions from Netizens on his post.
"How can it be a Zero mileage yet he already riding on it. Ujinga wajana mbali." A comment read.
"Yes. What's wrong with that? You hustle to better your life not to remain poor and after making it in life one still deserve the name hustler. Ni kama inakuuma sana , si tukuite hustler ata wewe hii maneno iishe but husidhani sisi ni wajinga. We know the difference." A comment read.
"Mr.Chepkut, finish your term ukwende nyumbañi,Ainabkoi people are really regretting electing you!!" A comment read.
"Wote ni huslers .. one day he will also get a nduthi ,then a brobox. . Then a range rover.. the chain works that way" a comment read.
"The V8 is government property, you forgot to mention that.." a comment read.
"😂😂 This is foolishness at a very high level. This guy is trying to ambuish the DP when he is a persona non granta in his own constituency where he has done zero development since he was elected in 2017 through simpathy votes after shading tears claiming he was insulted." A comment read.
"Mr.Chepkut It is With Deep Regret that We Even Champaigned For U As our Mp....Wamanyaga(His soul rest in Peace)would Be Ashamed Of U right Now...Come Back To Ur People and Hear Them Out...Munyaka For Dp...U might be Alone In this..This isnt Ainapkoi's View On a Great Leader." A comment read.
"Mp anavaa 3pc suit during a very hot day in Mombasa Junet was surprised haisuru maliza tu term yako pole pole uende nyumbani." A comment read.
Content created and supplied by: ThePolitician (via Opera News )