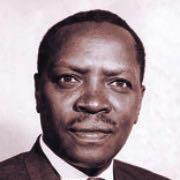 Former Finance Minister James Gichuru was very close friend of Jomo Kenyatta. He was among the few ministers Kenyatta trusted most but his love for the bottle sometimes put him at odds with the head of state.
His alcoholism sometimes made him make a blunders during his tenure as kenya's finance minister.
In his eminent memoir "Walking in Kenyatta's Struggle, Duncan Ndegwa narrates of a humorous scenario where Gichuru had to stop reading the budget in order to take a bottle of beer.
"Half-way into completing the Budget speech in Parliament, Gichuru fumbled in front of the eyes of honourable members, diplomats…and the President.
According to Mr Ndegwa, "a break was allowed for the minister to top up, maybe at Karai Bar," in River Road and that is the state which the minister read his speech.
This incidence is said to have prompted the then head of state, Jomo Kenyatta to transfer him to the ministry of defence. However this didn't solve his drinking behavior.
This is not the only blunder Gichuru made at the finance docket. History records that he missed the official opening of the Central Bank of Kenya in the year 1966 after he reportedly blacked out a few hours before the occasion.
Content created and supplied by: Timelynews.com (via Opera News )