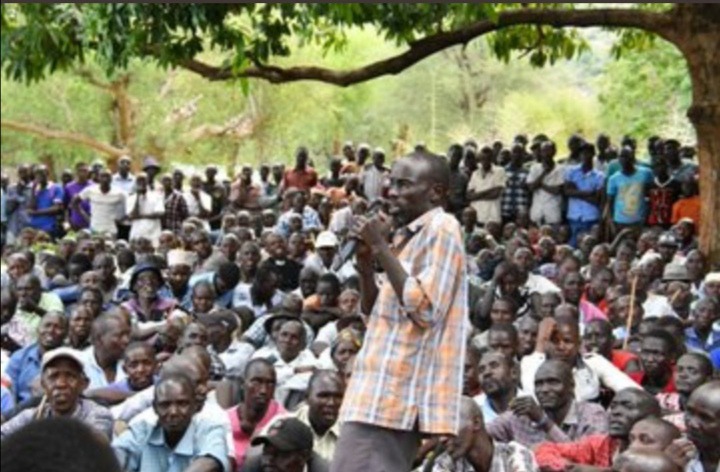 Residents of Kerio Valley during a past consultative meeting
Residents in Marakwet East constituency have asked Interior Cabinet Secretary Fred Matiangi to nulify the recent appointment of chiefs and their assistants, saying the exercise was marred by corruption.
The residents said the exercise was carried well at the sub county level, adding that the process was corrupted at the Harambee House in Nairobi.
Addressing the press at Chesoi trading centre, the residents led by Marakwet East Youths Association chairman Yatich Kibor, threatened to go to court if the CS doesn't nulify the appointment.
Mr Kibor wondered why all the vacancies of three chiefs and four assistant chiefs were filled by those perceived to be key supporters of the area MP Kangogo Bowen.
They said it was shocking that none of those candidates who were among the top two in seven locations was appointed to the post of chiefs and assistant chiefs respectively.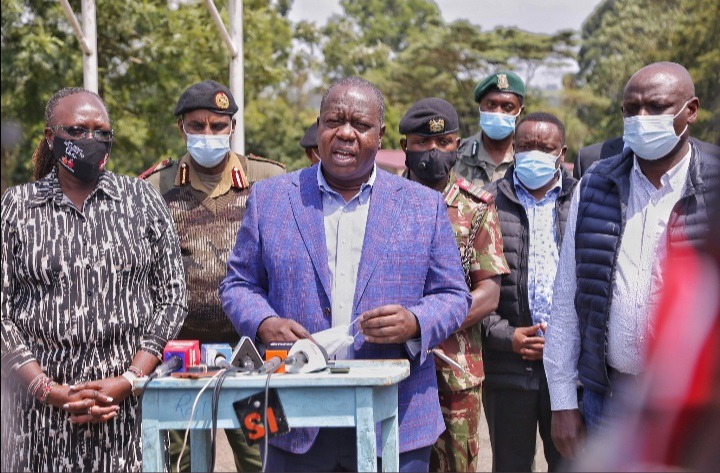 Interior Cabinet Secretary Fred Matiangi addressing the press during a past event
They singled out Koibatek, Talai, Kapchebau and Sagat as those locations that candidates who were in positions four, five and eight after the interview were given jobs and the best candidates ignored.
"We want to know why those who were in positions one and two in each category after the interview at the Deouty County Commissioner's (DCCs) office in Chesoi were never given these jobs. Instead those who were in number four,five etc,were given the jobs,. This is very unfair",said Mr Kibor.
He wondered why interviews for such positions were being held if the best candidates for such jobs were not employed.
"We have resolved to take the matter to court if Mr Matiangi will not nulify the entire process in Marakwet East which was a total sham. Why is it that the process was fair in Marakwet West? asked Kibor.
The residents said the CS should get the list of the best candidates for the positions from Marakwet East DCC and take the necessary measures to restore the integrity as far as appointment of provincial administrators is concerned.
"We are giving Mr Matiangi two weeks time to correct the mess, failure to which we will seek for justice in the courts. There is no need for our people to be interviewed for those who fail in such interviews to be given jobs," said Kibor.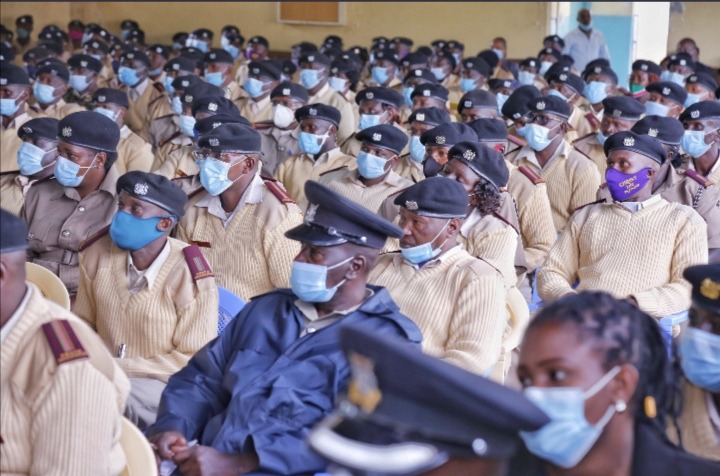 Chiefs and their assistants during a past event
Marakwet East DCC Simon Osumbo could not be reached for comment.
However,a senior officer in human resource in Chesoi who did not want to be named because he is not authorised to talk to press said they were shocked at the appointment on chiefs and their assistants in the area.
"None of those who were among top two in each category got the job. This is really demoralising. We did our part but the problem is in Harambee House. You can talk to PS Karanja Kibicho, he is the right person to tell you what happened," said Mr Kibor.
This comes at a time that residents of Kapedo in the neighboring Baringo and Turkana counties have spend sleepless nights as government forces battle what we are told are a group of bandits and rudimentary militia. 
Content created and supplied by: AsesaThaddeus (via Opera News )