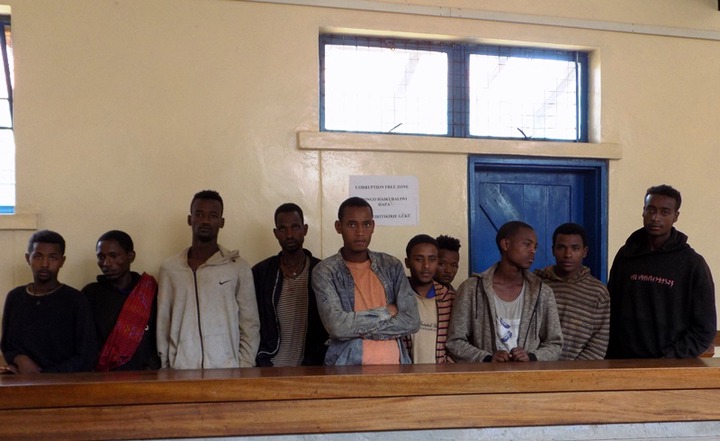 Ethiopians who were found being illegally in Kenya at Embu Town while in court
An Embu Court forgave 10 Ethiopian foreigners who were illegally in the country after human traffickers swindled them they would take them to South Africa.
Chief Magistrate Maxwell Gicheru expressed concern that the ten fell in the hands of dangerous human traffickers on Wednesday who swindled them of their cash before abandoning them after police caught them.
He said since Ethiopia is a strong economy and there is no war necessitating for the aliens to be given asylum they should be returned to their country to continue with their lives as there was no need of fining or jailing them.
The group of young, tired and shaggy-looking men who had Ethiopian National Identification cards who included: Megiso Abera, Biruk Tageise, Mubashir Birhanu, Eserahel Birhanu, Advise Abaham, Aseba Damito, Fayisa Sodano, Abayine Abebe,  Missamu Dafara, and Kabede Abera were arrested while clasp together in a car on Embu-Kibugu Road near the Embu Agricultural Show-ground by police on Wednesday evening.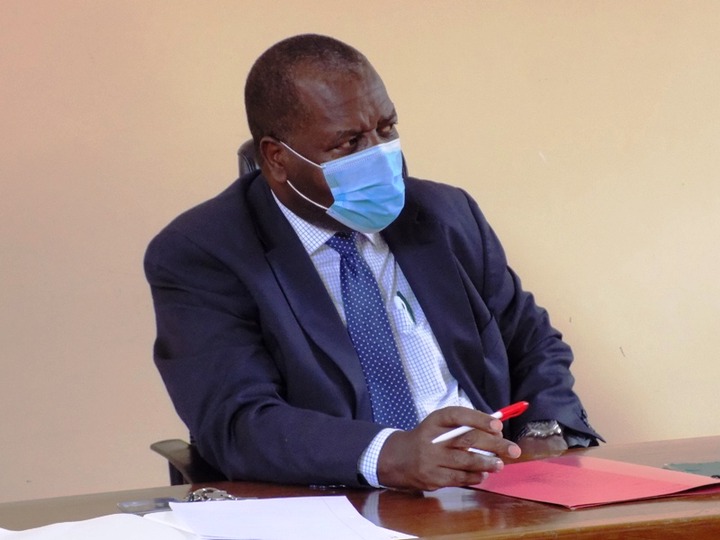 Embu Chief Magistrate Maxwell Gicheru
Police on patrol flagged the car down and on inspection the foreigners, who had no permit to be in the country and could not communicate in English or Kiswahili were found pressed together.
The car's driver escaped before police confiscated it took and took the foreigners to Embu police station and charged them with being in Kenya unlawfully.
The court was forced to use two of the aliens who could understand English to interpret for the others, after an interpreter who usually assists the court for the services declined for unknown reasons.
Content created and supplied by: Mpekuzi (via Opera News )