The following areas are set to experience a long power outage tomorrow (Friday, 15th January 2021) as the Kenya Power carry out maintenance.

The Kenya Power and Lighting Company is the sole supplier of electricity in Kenya. The company usually buy electricity from KenGen and later supplies and sells it to the final consumers. The electricity final consumers of Kenya Power and Lighting Company are numerous and include homes where power is used for very many domestic purposes such as powering cookers, powering electronics, charging phones and more importantly used for lighting. Many homes also use electricity for agricultural purposes like powering farm machines, water pumps, among others. Businesses like posho mills, barber shops, salons etc also require continuous supply of electricity to run their operations. During blackouts, these businesses mostly close down. Institutions like schools, hospitals, banks, just to mention a few also need uninterrupted supply of electricity in order to ensure continuous operations in their various daily activities.
Now during blackouts, these customers are much affected and they incur loses. It is thus necessary for those who reside in the areas where Kenya Power is set to interrupt the supply of electricity to be aware so that they can get prepared in advance. Tomorrow, KPLC will interrupt electricity supply in the following areas.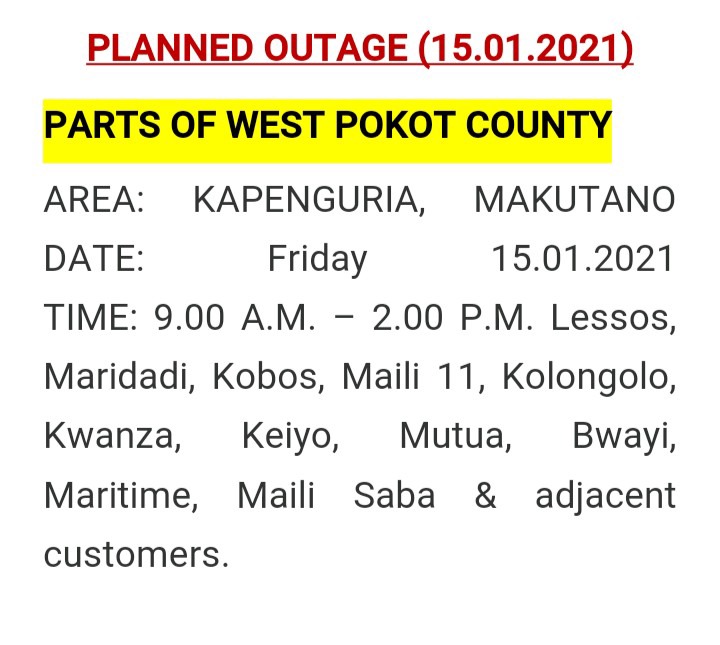 Content created and supplied by: KenyaPower (via Opera News )