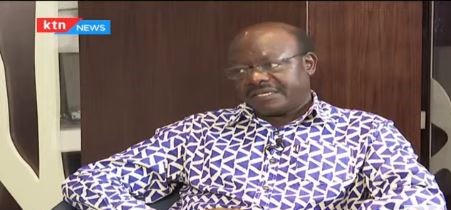 United Nations Conference for Trade and Development's former Secretary-General Dr. Mukhisa Kitui who quit his job to run his bid as a presidential candidate in 2022, has assured Kenyans that he is ready for the battle that is scheduled next year.
Dr. Mukhisa who was speaking with the KTN News on Sunday night claimed that he has been in politics for over 40 years and he assured Kenyans that he is fit and that he has what it takes to the president of this country. According to him, Kenyans should consider his tactics but not what he promises to do when he takes power.
While speaking about his relationship with the former president Mwai Kibaki, he narrated how the ex-president invited him to Nakuru where he gave him "blessings" before forming an alliance that led Kibaki to power as a president in 2002.
"Before we formed an alliance that brought Kibaki to power, he invited me to meet him in Nakuru, where he told me ."In Kikuyu custom when one is getting old, he picks one of his sons & gives him a calf for his grandchildren to have milk," Dr. Mukhisa narrated.
"Kibaki gave me 4 heifers, dorpers, and goats which I took to my farm. One of the heifers gave birth the day he won election to become President of the Republic of Kenya," he added.
He served in the former president Mwai Kibaki's administration between the year 2002 up to 2007.
Source: KTN News
Content created and supplied by: Kenya-Best_TV (via Opera News )